With every passing year, the roads get more and more crowded with cars. While the traffic gets worse, people still rely on automobiles to make their lives and careers work. Giving up your car simply isn't feasible for a lot of us. And that presents a financial burden that you might find hard to shoulder.
The sheer cost of operating a car these days can be very expensive! We've taken the liberty of assembling our best tips for keeping that cost to a minimum. Pay no more than you have to drive, without compromising your safety!
We pay $150 a month towards gas, Around $100 every 6 months for regular servicing. In the long run, we spend close to $1000 per year for maintenance.
Maintenance cost is pure YMMV based on your car's make, model and condition.
Car insurance for our two cars cost us $800 for 6 months.
That's a lot of money for a year we are spending on our cars. There are ways you can reduce this cost that I am going to cover now.
10 Tips For Cutting Car Costs
1) Fully Explore Your Insurance Options
Once upon a time, the cheapest way to ensure your vehicle was by assembling adequate coverage out of a collection of third-party policies.
Then comprehensive policies came to the fore. And now, you may be able to save more money by combining your auto insurance with your other insurance needs, such as homeowner's or renter's insurance.
Investigate your options thoroughly before you make any commitments!
You can always get a solid quote from an insurer before you sign any binding contracts.
And today's price comparison websites make it easier than ever before to shop around for auto insurance.
Keep on shopping and taking estimates forever to gradually lower your total insurance premium.
2) Pay Annually Wherever Possible
This tip applies primarily to your insurance and car tax, but we urge you to use it as broadly as possible.
Many of your driving expenses give you the option of paying on a month-to-month basis or in larger chunks – usually by the year or in six-month installments.
Whenever it's practical for you, go for the longer terms, ideally annual ones. Paying in lump sums often saves you money.
Even if it doesn't, you save yourself a little bit of budgeting hassle by clearing one monthly bill out of your budget.
Check your payment arrangements for other regular expenses like registration and inspections to confirm that you're getting the best deal.
3) Pay No More Than You Have To For (Safe) Maintenance And Inspections
Depending on where you're driving, you may be required to get your car inspected regularly.
This can often be done at a range of different businesses in addition to your local DMV, but getting inspections from private providers is rarely the most affordable option.
Check with the DMV (online is the fastest way) about the cheapest options for keeping your vehicle in compliance with local regulations.
When it comes to obvious maintenance tasks like changing your oil, balancing your tires, and other recurring needs, you may be able to economize by signing up for a service plan.
This borrows a little bit of the "pay less frequently" philosophy from our last trip.
A good plan that addresses all of your vehicle's needs may be cheaper than having them fixed on a case-by-case basis – and it also reduces the odds of overlooking important maintenance and compromising your car's safety!
4) Don't Bother With Premium Gas
Every time you fill up your car, you're likely to run into advertising that asserts premium, high-octane gasoline is better for your vehicle.
Don't buy the hype! Any improvements you get in performance or gas mileage are going to be very minor – but the increase in your fuel spending won't be.
Unless the manufacturer's instructions for your vehicle specify high-octane fuel (most often seen with high-performance sports cars), skip the pricier varieties and stick with regular gas.
If you drive a luxury car then premium gas should be your only option. There are many hidden prices to pay to own a luxury car.
5) Keep Your Tires In Good Repair
Breakdowns are some of the most irritating parts of owning a car.
They throw a tremendous hassle your way, and they can also get painfully expensive if they occur in an inaccessible location.
Tire faults are responsible for a huge fraction of breakdowns and accidents, and the condition of your tires gets even more important in cold weather.
Get in the habit of checking your tires regularly. If your tires have less than 2/32 of an inch of tread depth, they need immediate replacement.
For the icy conditions that prevail in winter, you should at least double that amount of tread left. Wondering how to check such a small measurement?
A penny is an easy measuring tool. Insert the penny into the tread with the top of the coin facing in toward the axle.
If your tire tread isn't deep enough to reach Lincoln's head, you have less than 2/32 of an inch of tread remaining.
Tire pressure matters too. If your tires are under-inflated, your fuel efficiency will suffer and you'll end up burning more gas than you need.
Either use the tire gauge mounted on most commercial air pumps to check your tires when you fill up or invest in a gauge that you keep in your glove box.
These can be very cheap, and they may save you a lot of money by identifying a leaky or under-inflated tire sooner rather than later.
6) Cultivate Efficient Driving Habits
With vehicle costs the way they are, many people are looking out for opportunities to walk or ride rather than drive when they can.
Even if you don't want to go to that extreme, you can reduce your overall operating costs by learning to drive efficiently.
Speaking in general, hard maneuvers are more expensive in terms of fuel and wear and tear on your car.
Keep your braking and accelerating gently unless you need to move fast to stay safe.
High-revving acceleration is a particularly costly habit, spoiling your gas mileage and burning money away every time you stomp on the pedal.
If you have a car with a manual transmission, take extra care to keep your car in the most efficient gear whenever possible.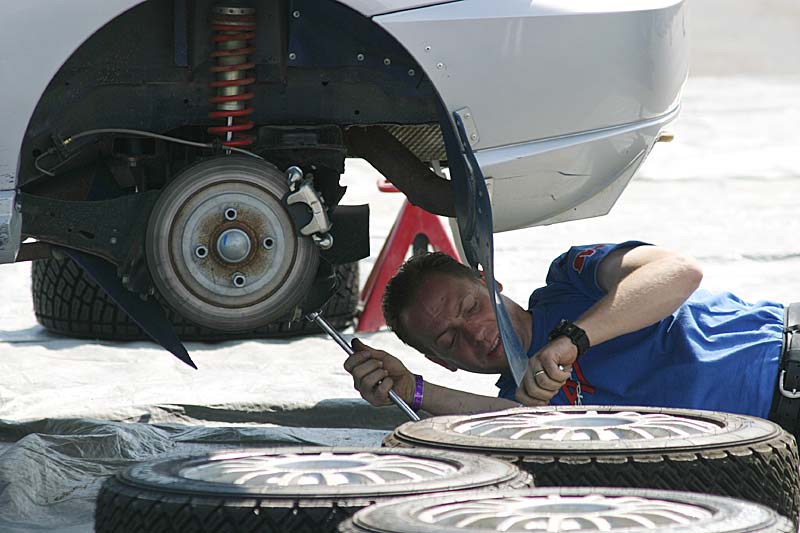 7) Reduce Insurance Costs With A Second Driver
This is a highly situational tip, but if it applies to you, it can be a lifesaver.
If you have some rough patches in your driving history (e.g. moving or parking violations, accidents, or DWIs), insurers may charge a hefty premium to cover you.
If you share your policy with another driver who has a cleaner record, your total cost may be less.
Your most likely candidate for this type of insurance policy will be a spouse or another relative living with you.
The second driver on your policy should be someone who can and does drive your car, having equal access to it.
Note that we are NOT encouraging you to commit insurance fraud!
Being deceptive about who can and does drive your car can void your policy and may even make you liable for criminal charges.
8) Live Without Air Conditioning When You Can
Just as it is in your home, air conditioning in your car is surprisingly costly.
Blasting the air conditioning reduces your car's performance and significantly impacts fuel efficiency.
Up to 10 percent of the gas you burn goes straight to running the air conditioner when it's on.
Find a reasonable balance between comfort and cost.
At lower residential speeds, it is generally more efficient to cool your car by lowering the windows.
This does not hold at highway speeds, though, where the drag caused by open windows is worse for fuel efficiency than running the air conditioner.
9) Find Cheap Gas
Unless your tank is running dry or you're in a hurry, take the time to find the lowest gas prices.
While the amount you stand to save per gallon is relatively small, it can make a difference over a year.
If there is a discount gas provider in your community (often connected to a grocery or retail store), sign up to enjoy regular hassle-free savings on gas.
If there's a Kroger store nearby, you can get your gas at a near free price.
If you have a Costco nearby, get a membership. Costco membership fee can be recovered by filling our gas at Costco alone, even if you never buy anything else from Costco.
10) Buy Car Parts On Your Own
Some car problems are mysterious to the driver, and you don't even know what needs to be fixed until you take it to a mechanic.
For clearer problems, where you know what's wrong, you can save money on repairs by purchasing replacement parts yourself.
The majority of mechanics are happy to work with parts you provide, and this is cheaper (sometimes by an impressive amount!) than buying both parts and labor from a garage.
Go to a garage, get the problem diagnosed and then order the required parts online, deliver it to the mechanic's store. This how we do our repairs.
Readers, how much you pay for the car and how are you reducing cost?