Readers, this is another one from my "101 ways" series. Look for others on the side bar. Perhaps it took most time to compile this one. Literally I listed 200 odd tips and eliminated 99 of 'em. Hope I produced some value added cheat sheet for you. For all the personal finance enthusiasts, here's the basic list of 101 financial tips.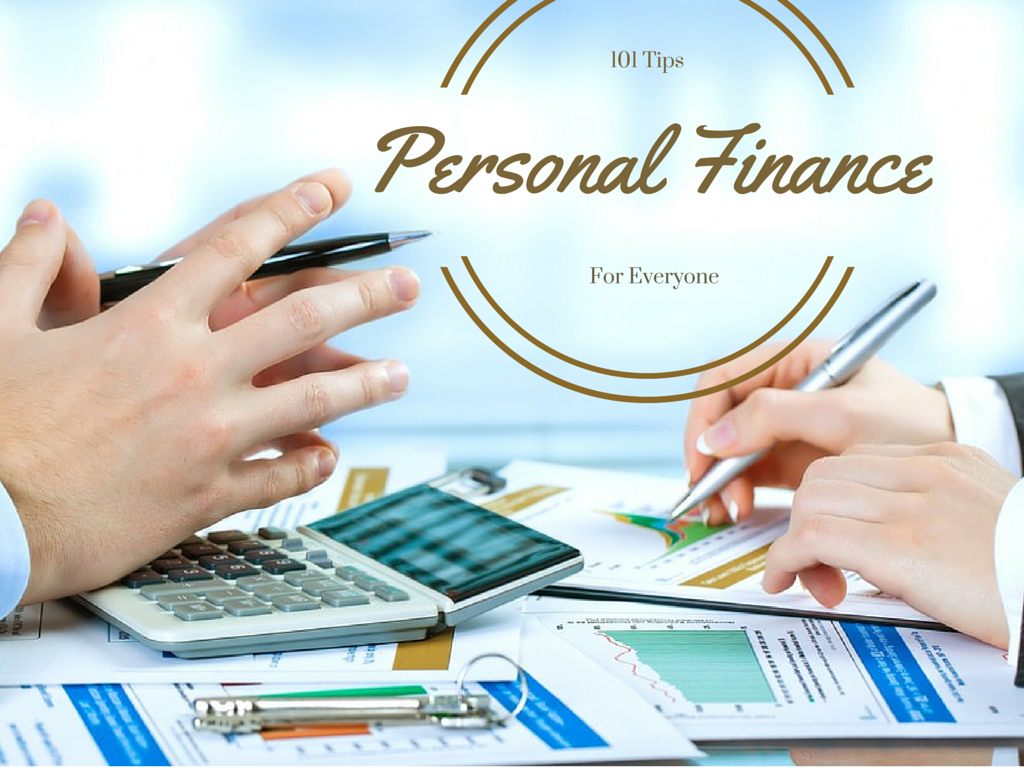 I am sure this list would help every one that come across this article. I wish I'd be delivering this article to everyone's mail boxes. Every individual in every country. If people follow basic personal finance principles, would would be a better place to live in. crime would be lesser, there would be no poverty. If you think through, you may establish the connection.
Note : Even with all the knowledge, often we do better when we have a tool in hand. Finding personal finance problems and their cure becomes easier when we use a personal finance tool. There are many free personal finance tools in the market, Yodlee, mint, quicken, etc. Lately, I have been using Personal Capital, a free tool to manage your income, spending, budget and investments. You can read my full review of personal Capital. You can start using regularly to improve your finances.
Now let's get straight in to the theory of personal finance.
Whether buying or selling a home, purchasing a car, or saving for retirement or college, let these tips help you to navigate the perils of personal finance.
Spend less than your Earning – I'd always put this point on top. This is so fundamental. You are not managing your finances well if you're consistently spending more than your income.
Dump credit cards – If you can't pay full balance every month. Using credit cards for everything without paying it off in full, is a certain recipe for financial troubles and credit card debt. On the contrary, if you can payoff your dues every month in full, credit cards can be excellent source of side income – in terms of rewards points and cash-backs.
Open a bank safe deposit box –  Even guys in federal govt. advise for having valuables stored safe in a bank safe deposit box. The are everything-bad-in-the-world poof, actually.
Let your family know what is going on with your finances – especially your spouse. More they know more willing they will be to keep spending in check. Also, this'll help the little ones in their financial life as well.
Learn from others who are successful financially. You will learn from a knowledgeable and experienced mentor.
Buy appreciating assets – Understand the difference between assets and liabilities and choose to buy assets. Spend less on depreciating assets like Car, electronics. Spend more on real estate properties, for example.
Get the most from your investments – Options include stock portfolios, mutual funds, savings accounts, and anything that brings you returns.
Less aggressive investors may choose low risk options that give low returns in the long term. Buying bonds, T-bills, money market funds have lesser risk than stocks.
Avoid  letting your money idle in accounts that do not pay interest. Do not keep most of your money in a checking account. They actually lose value over inflation.
Get an experienced financial consult to handle your investment affairs, when in doubt. At least once in your life time, do hire one.
Keep records – Make note of your every spending and review your notes at the end of the month to see  where you are spending needlessly.
Use cash – This will force you to resist the temptation to whip out your credit card, and think about what you are buying.
Consider the long as well as the short term – While you are saving up for that dream home, consider more immediate needs as well.
Plan your finances together – Discuss and agree on financial decisions with your spouse.
Take stock of your risks in relationship to the rewards on investment – Understand your risk tolerance and what you can live with.  Never take an investment decision that you will soon regret.
Understand your stock and bond portfolio – Research the past performance of your potential stocks and bonds before buying. Better don't buy individual stocks, if you don't think yourself as close to Warren Buffet in investing acumen.
Avoid investment scams and pyramids – Learn from the recent collapse of various pyramid investment schemes.
Live on a budget – This will give you a picture of where your money is going and how you can live within your means. Try for few months at least before it becomes your habit.
Stick to your Budget  – Develop the habit of sticking to your budget to safeguard against impulsive spending. Budgets fail more than 50% of times, be careful while budgeting, have some fun spending in there.
Look carefully on all credit terms – Read the fine print before you commit to any credit arrangement.  This will save you in fees and penalties later on.
Stay away from paying interest on credit and purchase only items for which you already have the money.
Beware of bank fees – these add up and you will be surprised that there are so many fees attached to your use of bank services (or any inactivity with your account).
Regularly review your bank accounts and make any adjustments that will save you time and money. Easiest way, open a Personal Capital, Mint or Yodlee account and add all your financial accounts there for a 360 degree view of your finances.
Have Insurance –  Review your insurance policies periodically to ensure that your coverage is sufficient. at a minimum you should have life, health and vehicle coverage. If you're a home owner then you need home owners insurance too. Insurance is a defense against financial loss due to factors out of your control.
Do not Over-insure – Avoid paying more than you need to for insurance coverage but ensure you have sufficient coverage for your income and assets in case of disability or death.
Make a Will – This forces you to take an inventory of your assets and liabilities.
Keep your Will up to date – to ensure that all your assets are accounted for and your instructions are coherent.
Pay off Credit Card Debt – This high-interest debt can accumulate very quickly if not properly managed so pay it off and use the usual payments towards investments.
Start early with retirement savings – It is never too early to start saving for your retirement, even if you are currently in your twenties.  The sooner you start, the more you will save.
Ensure you are contributing enough to your  Retirement Plan – consider increasing your amount.
Set up your Savings Plan – This is easily achieved when you develop the habit of paying yourself first. You will soon develop a strong savings and investment portfolio.
Make savings a consistent habit – You can save effectively when you make up your mind to put aside anywhere between  5% to 10% of what you earn prior to paying your bills.
Use salary deductions to place your savings into a separate account.  When you do not see that money, you are not tempted to spend it.
Invest in more than one areas!   Don't put all your funds in one investment, diversify!
Make maximum use of your Employment Benefits  – such benefits as medical and dental insurance from your job should be used to their fullest thereby saving you from out of pocket spending.  You may also enjoy lower taxes.
Check your Records for deductibles you can claim – this will help you to spot areas where you can benefit from income tax claims and deductions that are permitted.
Increase Savings, Decrease Debt – Pay as much as you can to reduce your debt.  Paying only the minimum will only serve to diminish your potential savings and grow your debt.
Timing is everything – Understand that time also affects the value of money.  It is more feasible to receive your full amount as a lump sum payment rather than in installments (providing that no interest is involved). Installments will cause you to lose the chance to invest lump sums for the long term.
Have an Emergency Fund – Money management experts advise that you should have sufficient savings for up to six months that are easy to get to in case of emergencies.
Know what you want your emergency fund for – Make note of the reason for your emergency fund and determine how much you are able to pay to it monthly.
Have your emergency savings in a separate account – Such as a money market fund which you will not be too quick to spend.
Keep emergency funds liquid -It is money available quickly when you need it most.
Save regularly in amounts you can manage – Decide on how much you are able to save and stick to it. You can go for 10 percent, but you can start with less if that is all you can afford at this time.
Don't spend windfalls when you can save them – allow all or part of extra money like bonuses, cash refunds, raises, etc into your savings.
Use the same payments on loan repayments toward savings when you have paid off the loan.
Don't be  swayed by Advertising –  As you shop, make sure you have determined how much you intend to spend beforehand.
Not all bargains are what they seem – Look out for hidden charges and taxes that impact on the "sale" price.
Consider carefully your banking options – Look at the many bank options carefully and choose the one that is best for you, for example a Credit Union.
Be on top of your Taxes – Become familiar with the workings of income tax and how it impacts your ability to live within your paycheck.
Learn how to do your own tax returns – you will be able to learn much more about income tax and the benefits you can access.
Look out for your health – get insurance to meet your health expenses.
Do what it takes to remain healthy –  You can reduce the amount you pay in medical bills when you take action to improve your health.
Take time to check around for the best insurance rates – This will enable you to save more money, every time you get a lower insurance premium, go for it.
Make sure your assets are protected – through insurance against the event of disasters and illness or disability.
Use an unbiased professional to help you – Try a financial planner who is not just selling you a financial product but is giving you every option and advice impartially.
Reduce the effect of taxation – There are ways to minimize the amount of taxes you pay on income and assets through opening a retirement account, which is not taxable.
Hedge against inflation – You can invest in interest bearing accounts like stocks, bonds, money market funds, and  mutual funds so that your earnings is sufficient to absorb inflation.
Know your risk tolerance in stock investing – your ability to take on higher risk in investing in the stock market depends on a number of factors, including your age, and income level.  The higher your risk tolerance, the more you can place in the stock market compared to other investment instruments.
Saving for College could also include stocks –  College costs are increasing faster than the rate of inflation and stocks can effectively keep pace with this.  You may invest in stocks while your children are young but as they get older, more funds can be moved into bonds.
Know your stock fund profiles – learn more about the nature of the entities in your mutual funds.  Learn how well they performed and whether they fit your portfolio style.
Get familiar with your bond fund profiles – Just as with stock funds, you will need to know everything about the bonds you own.
Set  your goals for the long term  – As you figure out your investment strategy, you need to also identify your long term goals and associated costs.
Teach your children early about money – Everything about money and how to use it should be among the first lessons you impart.
Tell your children the truth about money –  money management lessons you teach your children from early will cement their attitudes for life.  Tell them the truth and show them how to relate to money responsibly.
Find avenues to earn on side – Having additional stream of income helps in big way, to pay for expensive gifts, family emergencies and sought after travel plans.
Encourage your partner to work – If the're not already at it. With both partners working, it works as financial security for both.
Have fun in your daily routine – Saving money everyday becomes boring, having fun and spending some money to have fun is very important for long-term saving goals.
Saving for your child's college fund is important, but saving for your own retirement is more important – There are many options out there already for your child to access funds for college without needing your savings, so do not sacrifice your retirement fund for college.
It is not necessary for you to save for the entire four year college cost – Your savings will be boosted by grants, scholarships and other funds from the State or Federal sources.
A 529 savings plan is a good way for saving for college, and it offers tax breaks – Most of these plans will allow you to save amounts higher than $200,000 per beneficiary without an income or age restriction. You will also be allowed Federal tax breaks for qualified withdrawals.
Consider Tax breaks as grants – particularly when you contribute to college tuition, you can take advantage of two federal tax credits –  the Lifetime Learning Credit, and the American Opportunity Tax Credit that credit you for the years you paid tuition.
Take employee stock options when you can get them – Even if you are not part of the executive, there are companies that offer stock options for their employees as part of their compensation packages.
Exercising your Stock Options can be costly – Exercising your Stock Options too early, or too late (after a crash) will cost you big time in taxes.  Carefully balance your options to maximize returns and minimize taxes.
Holding your options as long as possible is usually the smart thing to do – financial experts usually advise that you hold your options until your stocks increase in value before cashing out.  You should not cash out unless you have a better way to use the gains  from this transaction.
In some cases exercising your stock options early is the way to go – Such as loss of faith in the company's prospects, having too many company stocks and needing to diversify,  and avoiding a higher tax bracket.
Not all debt are bad – There are good debt out there, that include borrowing for college and for home ownership.  Make sure you borrow what you can afford to repay and look around for the best interest rates.
Not all debt are good –  One debt to avoid is the use of credit cards to buy consumables like meals and trips!  This is a sure way to quickly fall into debt.  Consider putting aside money every month toward these things so that you can fully pay your bills.
Deal with your most expensive debt first –  Make every effort to pay first on loan balances having the highest interest rates while paying the minimum on your other debt. As soon as you complete paying your expensive debt, you can turn your attention to the next expensive and so forth.
Avoid the "minimum" pitfall – Paying just the minimum on credit-card debt will not move you out of debt. In fact you will find yourself taking much longer to clear your debt.
Be careful when borrowing money –  You  might think it is a good idea to borrow against your home equity or your retirement account to clear debt.  You could lose your home and retirement returns if you fail to repay.
Do not pay off your mortgage too quickly – While it is tempting to do so, you might be better off paying off other debt first.  Mortgages tend to have lower interest rates that are more bearable (if not, consider refinancing).
Get help as soon as you need it – If you are inundated with debt, seek help! Professional debt counselors with good reputations are able to assist you in consolidating your debt and manage your financial obligations. Avoid the sharks!
Do not buy a house if you do not intend to stay – If you much rather move from place to place for a few years, this is not the time to buy a house. Unless you want it for investment purpose. For living you'd probably do better renting, for shorter stays.
Before buying your house, improve your credit – Buying a house will most inevitably require a mortgage which you will need good credit to qualify for.  Make sure you review your credit background and clear up any problems you find.
Go for a  house you can actually afford – Consider your income, debt obligations and other factors when looking for a home you can afford.  Use any of the online calculators to get a better idea of the price range you can actually afford, given your circumstances.
You may still be qualified for a home loan even if you cannot come up with the usual 20 percent deposit –  A number of private and public loan institutions are willing to consider your application by allowing you a low-interest mortgage after a low deposit, if you qualify otherwise.
Purchase your home in a good school district –  Even if you do not have children going to school, you still need to consider this.  The fact that most home buyers are looking to buy into a good school district is great when you are selling.
Use a professional real estate agent – Even with the plethora of information online about homes, a professional will help you to get the best deals.
Carefully choose between rates and points  –  To choose the right mortgage, you will need to consider the option of either paying more points (the amount of interest payable at closing) in return for a lower interest rate.  If you intend to stay in the home for a long period, then go for the points. You will save more on interest in the long term.
Get approval from your lender before you start looking for that house – Prior loan approval will assist you to negotiate seriously with a potential home seller.
Research before bidding on a house –  Your first bid must be related to the actual sales trend of houses like the one you are interested in for that location. Armed with actual information, you would be in a position to bid lower than the asking price without risking overpayment.
Engage a professional home inspector – although your lending institution will insist on a home appraisal to ensure that you have not agreed to pay more than the place is worth, your own inspector will point out flaws and areas that will require attention if you buy the home.
In buying a car, ensure that you are buying the right vehicle –  it is never a good idea to buy a car on impulse.  Consider exactly what you need in a vehicle then look for that car, which meets your needs.
Check the value of your old car – The value of the car you have now can make a difference in your budget if you intend to sell it or trade it in.  Research online for the prices of similar cars for a realistic value.
Sell your old car instead of trading it in – Selling your car will bring you more proceeds, although getting it sold may take longer.
Determine whether a used or new car is what you need –  You might be able to find a used car that is "like new" that is affordable.  If you are better served by a new vehicle, then go for it.
Check if buying or leasing a car is more feasible for you – When you lease you pay less. If you have no funds for a deposit, or if you trade in your car every two or so years it is better for you to lease.
Research first, then determine your target price – First check the internet for the dealer listing for the car you want for the costs and options for the best prices.
Look around for the money before looking around for the car – Buying a car with an auto loan means first seeking the best source for this loan at the lowest rates before getting that car.
Negotiate what you buy –  Ask for bids from as many auto dealers you can and choose the best price using the research you already did as a guide.
Do not allow the final deal to wipe out your savings – Do not accept unnecessary  features for your car that will cost you.
I am sure you'd find plenty that you're already following. There must be some that you always wanted to do. And there must be few that you are grateful that I shared. If this is the case do let me know.
Either way if you think my hard-work helped you, comment and let me know that. All the very best to your finances!