Today we will list 101 ways to earn extra money from side hustle. Go over them see which are the ones that best suited for you. Do some more research and further narrow down your choices, before selecting the one you'd go with.
Working for yourself may not be easy, people may also second guess you. Why do you need to have a second job? Are you still employed? Are you hungry for more money? You may be discouraged by your own circle of friends and family. But, do not let the naysayers damper your spirit.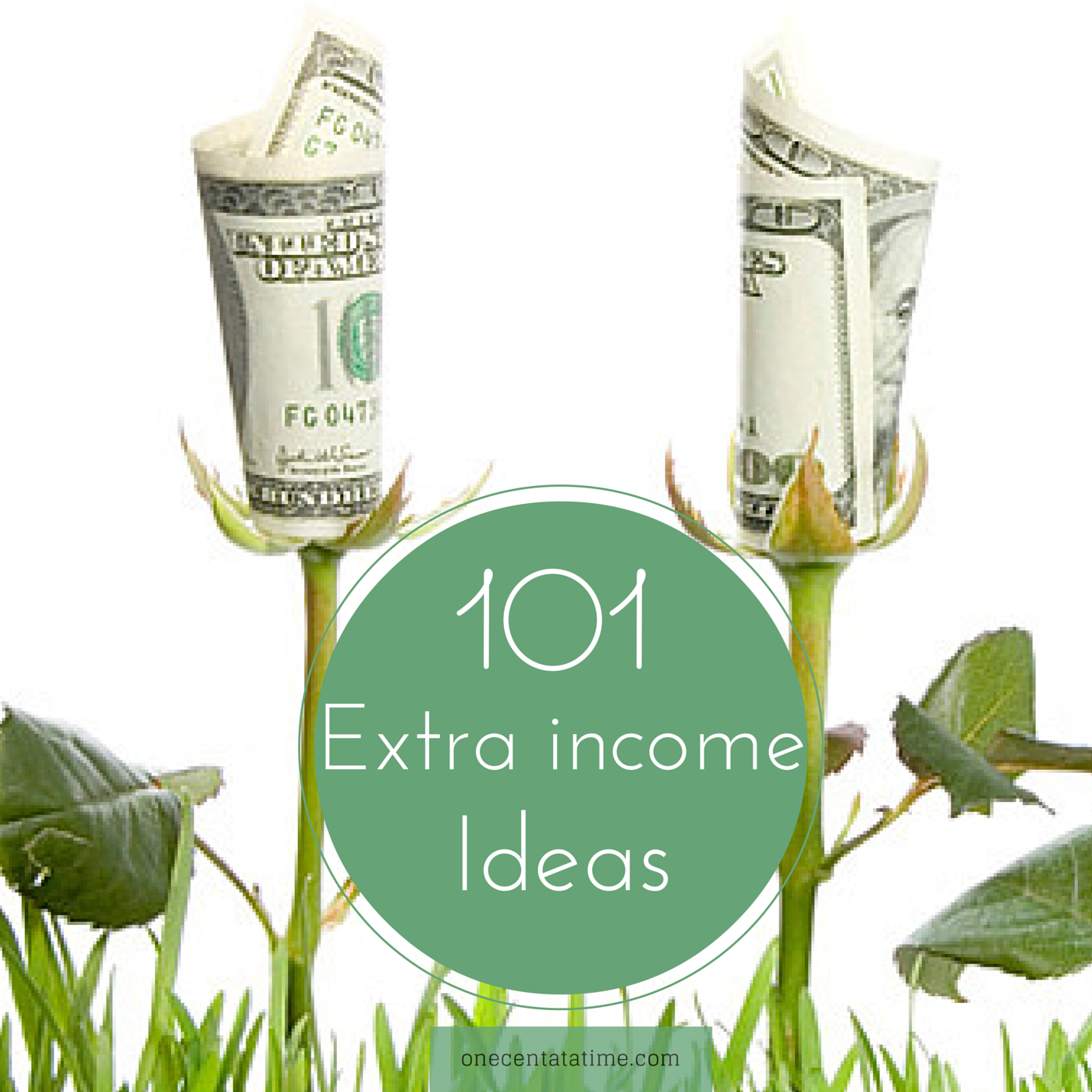 Working in a second job is for your better future. You can retire early to enjoy all that life has to offer if you earn extra money with your side hustle.
In the era of recession and outsourcing, your job is no more secure. Some of you may have seen unemployment or salary cut. Your income is shrinking — but your bills aren't. This side gigs can help you gain some padding to your diminishing income.
If you're looking for making some quick cash or fast money we recommend you read our popular article How to Earn Fast Money Legally. But, if you are looking for a steady sustainable income on the side, this post is the best you can get, I guarantee you.
Regular money on the side from SwagBucks – SwagBucks is a reward website where you can earn money by answering the survey, playing games (yes literally), searching the internet, reading emails, etc. The very things that you'd do anyway. To top it up, when you join, you'll get 

$5 bonus

. It is like getting paid to do things you'd do anyway. Apply for an account here. Your Swagbucks points can be redeemed towards gift cards. Every month my wife brings home a nice gift for me just from the money she earns from Swagbucks.
I earn side income through this blog. The add blocks you see on this site earn me money, sometimes we promote products via an affiliate route when readers buy those products, we get a commission. My side income stands almost at par with my income from the main job (Software development Manager).
Only one caveat – do not ignore your family and near ones in your endeavor. If you have a steady 9 -5 you may need to limit the time for side hustle and spend time with your loved ones.
You can't earn extra money without some upfront investment. Unless you open a blog and start blogging. You may need to get a personal loan to start your side income venture. If you want to be a baker, you need to buy equipment and gradually you need to set up your distribution network. 
The best way is to tap into your own fund. You may want to take out money from your lowest performing assets, like a CD or a savings bank balance to meet the initial capital need. The second option is to borrow from someone you know, like your family, relatives or friend.
The last and least option to arrange for cash is, taking a business or personal loan. Here's a list of good places where you can get personal loans.
101 ways to earn extra money
Blogging – You can earn money with your blog. Look no further than this blog. I have a day job, I blog for 2-3 hours a day and I earn $4,000 – $6,000 per month from this blog, which is ever increasing. Soon this blog will surpass my day job income. You can also earn regular money by blogging. You can create your blog in 20 Minutes for just $20. Generally, blog earning starts at month 6 to month 9, till then you'll need a lot of patience.
Cashback sites – One guaranteed way, probably you should start with this one. Even earning a mere $5 can bring enough enthusiasm to accomplish few more side hustles from the list. I started with Cashback website, when the first gift card we ordered with the points we earned, we were so thrilled. That was the beginning of earning-on-the-side for us. If you do online shopping, then do it via cashback sites. You will earn points for every purchase (on top of credit card reward). You can accumulate points and redeem for gift cards. Ibotta is another app that you can regularly use to earn back a portion of your shopping dollars.
Surveys – Here are top 10 Survey sites. You can earn money by taking online Surveys. You need to register for sites that publish surveys. Sign up with Opinion Outpost and Swagbucks, both to maximize your return. You will be able to participate in online surveys regarding new products and services. Earn Cash and other rewards for your time. Here is a list of best survey sites.
Seasonal Shop – Seasonal retail shops could be very good side hustle.
Earn by surfing the internet –  InboxDollars is a service that pays you for your regular web surfing. Also, a $5 instant money when you sign up.
Earn by searching the web and answering surveys – I know people who earn by answering surveys. SwagBucks offers generous and fast payment for answering surveys and playing games, etc. Bonus, you'll earn $5 upon signup (for US residents only).
Become an Uber Driver – Want to use your car? Become an Uber driver and drive passenger in your free time. Imagine the cost of a taxi ride, and 60% of the cost will be your profit to keep. As Uber takes 30% commission and 10% will be fuel cost.
Snow shoveling – If your area gets a lot of snowfall, you can start shovel service in the neighborhood.
Dog walking – If you have spare time then you can take dogs for a walk.
Property management – You can start property management service for your neighbors who spend most of the year away from home. you can offer your service as a proxy landlord.
Performer – You can earn by working as a street performer, bit too extreme but if you have talent then why not. Be careful not to become the joke of the town.
Moving business – You can start packers and movers services or at least you can become one of the agents of moving companies.
Sell your gigs on Fiverr – Become a Fivrr member and start selling your gig. Some examples would be writing an article, giving voice-over text, drawing a sketch from a picture, designing a quick logo, etc. You can earn between $5 to $25 depending on how demanding your gig could be.
Lawn Mowing – You can start lawn mowing service. This business can be very successful especially if you have free morning time.
Pet sitting – You can start a pet sitting side hustle.
Garden farming – You can grow vegetables in your garden and can sell the excess.
Teach English – If you are very good in English you can do proofreading, you can even teach English in community schools.
Pet Grooming – By taking a small fee from people you can groom their pets.
Scrap-booking – Many people love beautiful scrapbook, so you can earn by designing beautiful scrapbook.
Be a speaker – If you are a good speaker you can earn by working as a public speaker for any agency.
Assistance– You can be a part-time assistant of some small businessmen.
Letting people know what you buy – National Consumer Panel is one organization which pays you money when you scan and send them your shopping receipt. Its good money for littlest work!
Part-time Bartender – Are you are knowledgeable about the liquid? Do you love to play bartending at your house parties? You can become a part-time bartender or server at a local restaurant. You will get money, experience and an opportunity to hone your skills further.
Transporting goods – You can earn money by transporting goods, especially if you have truck/bigger vehicle.
Soap making business – You can start small soap making the workshop.
Get bank incentives – You can earn little side money by opening fee-free checking accounts at banks that provide a sign-up bonus.
Price arbitrage – You can buy goods from the local market which is cheap and then sell those goods for good profit.
Repair electronics – If you can do electric repairing then buy old gadgets, repair them and sell them.
Sell your paintings – If you can paint, you can sell your art online, you can even host local exhibition (even in your yard) and sell your paintings.
Babysitting – If you have too much spare time then you can do babysitting.
Rent your room – If you have a spare room in your house, you can start a bed and breakfast service. You can even rent it out to tourists when you are not at home.
Cake decoration – You can start a cake decorating side business. you can attend classes at local arts and craft stores ('Michael's' offer this course) to learn.
Candle making – Candle making is very easy and most don't require attending classes, you can buy equipment and read books on candle-making.
Garage sale arbitrage – You can buy stuff from the garage sale and sell on eBay and other online websites, earn the margin.
Programming jobs – If you can do programming, you can get online jobs, register for freelance sites. This can be an interesting off-work activity which can actually improve performance in your main job.
Website design – You can earn by designing websites/blog if you have that knack and expertise. You can start easily after taking few web designing classes at local community colleges. One of my friends is doing just that and earning decent money regularly.
Staff writing – Some online sites pay for writing articles for them. You can do this work from your home in the spare time.
Market your videos – If you have some original videos put them on youtube and earn money by using Google ad-sense enabled.
Teach music – If you are good at playing musical instruments, start teaching others for money.
Furniture assembly – You can start furniture assembling business if you have plumbing skills. If you have a truck and can carry items from furniture stores, you can start this business immediately. All you need to do it put up your ad on Craigslist.
Phonebook delivery – Every year people are hired to deliver phone books. You can earn seasonal money by becoming a delivery agent.
Coffee shop – You can start your own coffee shop, you require a license, though.
Gas station – If you can invest money then opening a gas station and hiring attendants could be a great side hustle.
Virtual teacher – If you are particularly strong in some subject, you can start teaching. There are sites that offer virtual tutor services, register with them first.
Be a DJ – If you are into music, playing DJ at local parties/wedding is a possibility for you to earn some extra money on the side.
Start boutique – You can start your own boutique. I have known many talented women who can easily start their own line of clothing.
Sell your photographs– You can sell your digital photographs to sites that resell them to publishers. You can earn from few cents to few dollars per picture, based on the quality and subject.
Fix computers – If you know computer hardware then start fixing computers, again putting up ads on local classified and Craigslist could bring you order.
Event manager – You can start an event management business. When someone you know is having a party, ask him/her if you can plan it for a small fee.
Sell candies – Make candies at home and sell those for a good profit.
Fish farming – You can start fish farming at home and then earn by selling fish.
Programming/designing – If you are good in programming then design some apps and sell those online.
You can provide service as a nanny.
Virtual Assistance – You can work as a virtual assistant if you wish you can become my editor and get paid on per post basis (really I am looking). There are various jobs for VAs from attending calls to writing contents and writing emails.
Golf caddy – You can work as a caddy over weekends. Call up the local golf courses and see who has the vacancy. Usually, they hire people for weekends when there is a rush at the golf courses.
Party photographer – Work as a photographer for weddings and parties. You can learn the trade from local community schools. you need to put nominal investment to buy DSLR camera and lenses.
Network Marketing – It's lucrative money earning business. You get paid to promote commercial goods and services to mailing lists or social network. Amway and Etsy are good examples of network marketing. Your communication skill would determine your potential.
Store attendant – Earn money by managing small businesses near your home. You can be paid to manage sales counter or just for keeping an eye on the shoppers. A couple of hours in the night every day can earn some extra money
Cook – Work as a part-time chef and help out others. Start making good foods and hand out free samples to your friends and neighbors. The order would soon start pouring in.
Swimming instructor – Become a swimming instructor, all you need is a training and a license.
Handyman – You can do handyman services as a side hustle. Advertise yourself in local classifieds, Angieslist and Craigslist.
Baking – If you can bake well, make cookies, cakes, and pastries for selling. One of my colleague's wife bakes cakes. The whole office gives her orders whenever there's a birthday or anniversary to celebrate.
Interior decoration – Start doing interior decorating. you can also stage homes for sale if you are into interior designing.
Knitting – If you can, start knitting. This business pays well.
Wedding planner – You can plan weddings. This business is a very good side business.
Sale body parts – You can sale your body, not talking about sex here, you can sale your sperm, blood, hairs, and nails for money. It's better to consult your physician before donating blood.
Make apps – If you can make smartphone apps, you can code new apps and sell it online.
Coaching – If you are good at sports, you can teach this to youngsters.= and earn extra money on the weekends and evenings.
Credit card rewards – Use credit cards and pay off total due every month. You don't have to pay interest and the reward is yours to keep. I have earned decent money so far.
Do odd jobs – 'For hire' section on Craigslist contain odd jobs watch out for them. Whenever you get a call you earn extra money.
Logo design – Design a logo for new businesses or websites if you're a graphic designer.
Paper route – news delivery is perhaps the number one on the chart for school/college kids. You can start by contacting local newspaper office. This way you may earn extra money, albeit very little.
Use your car – You can even make money from your car.
Taxi business – Buy a taxi and hire a driver if you have money.
Make soft toys – Make some soft toys and sell those online.
Landscaping – If you have skills, start landscaping and gardening service in your neighborhood. You'll need to buy tools
Garage sale – Conduct garage sales and earn money by getting rid of clutter at your home.
Buy some consignment shops and rent those.
Catering Service – Start a catering service, provide food to local parties/wedding
Card selling – Make some greeting cards at home and sell online.
Car wash – Have a community car wash, involve children and earn money every weekend (well, almost).
Medical studies – Participate in medical studies. Companies that are trying to receive approval from the FDA hire people to participate in studies as apart of their research
Start cosmetic selling shop.
Data entry – Start data entry business, this is zero investment business as well.
Flower arrangement – Start flower arrangement service. I know a community college near our home that offers this course.
Open a dorm – Start hostel/dorm facility in your spare room.
Language instructor – Teach languages you know to foreign visiting students.
Transcription – Start translation/transcription service in your free time.
Interpreter – If you know a second language, you can become an interpreter, even govt. agencies look for interpreters on an ad-hoc basis.
Be a bouncer – If you have that physique, you can become a bouncer at bars/pubs.
Freelancing projects – Make a team of freelancers, take projects and earn money.
Fundraising – Becoming a fundraiser allows building an extensive network and make extra money while working for a worthy cause.
Setup home-based garage – Start a small garage and give it to any mechanic on rent. You will regularly earn extra money
Leaflet distribution – Start leaflet distributing service, this can be a fun weekend activity.
Mystery shopper – Be a mystery shopper on behalf of the manufacturers and take the test of the sellers. I know a few mystery shoppers, another good thing is they get a lot of free stuff to keep.
Travel agency – If you love assisting people with their vacation plans, starting a home-based travel agency could be an ideal side hustle for you. This requires significant time and money investment, so getting a personal loan at low interest is the way to go for earning extra money.
Social media promotion – Earn money from social media. Businesses pay money for promoting their products on social media. Grow a big list of social media followers and look out for offers.
Livestock farming – Especially those who live in rural areas, can start a livestock business in their backyard.
Put a banner on your property – Use your property (car even) for setting up billboards if you can cope with that view.
Rent your parking spot – If you have extra space in parking lot, rent that extra space. If your parking lot remains empty during work hours you can rent out the spot.
Advertising business – Start advertising business, middlemen earn money by performing co-ordination job. You can contact publishers and advertisers separately and earn money by playing middleman.
This hustle may be sounding like an easy task but, in reality, they are tough jobs at times. Getting a start is very important, getting first few clients is probably the hardest part of it. Don't get disheartened, it took me 6 months before I started earning money for this blog.
If you are a student and looking for a side gig to lessen your student loan burden, here's our list of side jobs for college students.
You'll be successful if you have ambition and are willing to put hard-work. A side hustle could be a great trial for anyone thinking of working for themselves someday.