This is SB, Short for Sudipto Basu. I am an immigrant to the country who's living in the USA since 2005. I started writing here in 2011 and have written more than 2000 articles on money, happiness, and productivity to date. I believe in improving life one moment at a time and one cent at a time.
I do not sell any product here and this blog is only for informational purposes. I write about what worked for me and benefitted me financially and in my career.
Introduction of SB
When I was a 6th grader, I collected some money in my piggy bank; while my elder brother spent it up buying toys and sports equipment, I gave the money back to my dad urging him to buy a few company shares.
I developed my passion in the field of investment, finance, and money at quite an early stage of my life.
It is due to my strong monetary education at home that I have never been in debt. I haven't paid even a dime in credit card interest or penalty fees.
I take good care of my money and keep track of every dollar I earn and every dollar I spend. With the money, I saved so far I can happily retire now and go back to India to live a happy retired life.
I prepare the yearly and monthly budget which let me save around 50% of my income.  I am frugal but, at the same time, I am also an informed spender. I am a frugal guy who can loosen up the wallet string at times when the situation demands. I am growing richer One Cent at a Time.
I do wear the latest fashion, I have a collection of ties, watches, and sunglasses yet I try to bargain at Neiman Marcus.
I want cool new gadgets because I am techy and I can afford them, yet I will make sure my MacBook lives its full life before buying another laptop.
I do not open a wine bottle with a string, as few frugal bloggers suggest but at the same time, my bottle opener is not made of gold either. I don't teach you how to come out of debt because I have never been in debt. I will rather teach you how to remain debt free. I may also teach you how to be rich.
Background
I left India when my American employer decided to have me in their head office here in the USA, having passed out from one of the premier Indian universities with a master's degree in Computer Sciences.
I work in the technologies department for a major financial corporation (I hope my readers will not object to my preference for privacy).
My parents live in India and like most Indians living in the US, I do support my parents financially by remitting money for their upkeep.
I take pride in being a Hindu, the oldest religion in the world. My religion teaches us to be tolerant and loves every living being.
I live in Austin, TX, the Lonestar state, I recently moved from south Florida, as I changed my employer. So far I have been more or less successful in life.
As of now, I do not plan to quit the day job and take up blogging full-time but, if I improve upon my writing skill and continue to produce great articles day after day to attract a large number of visitors then, probably, I may think about quitting.
My Finance Tool
The only Personal Finance tool I use is Personal Capital. I linked all my financial accounts (brokerage, banks, 401(k), etc) and I track all our spending and earnings, and net worth through this tool. Personal Capital helped me save money (budget assistance) and increased my return on investment (Investment Checkup and fee analyzer features). Read my full review of the tool here. I stopped using everything else once I started with it.
Personal Capital is free to use. I strongly encourage you to use Empower. There's a hidden benefit of using the tool, you see your net worth go up every day. It's a growth of a few cents at a time 🙂
About This Blog
This blog is my entrepreneurial venture, no doubt, but I have a passion for finance and investing anyway, frugality attracts me. Finance, saving, and investments are what I live in. I breathe finance. I am the stock adviser to my colleagues. I am the go-to guy for people with financial questions at my work.
I believe financial success takes its own time, it's not an overnight phenomenon. That is why I named this blog – One Cent At A Time.
On financial matters I am very organized, I meticulously keep a count of each dollar spent and each dollar earned. If finance is my hobby and my most interesting subject, writing was never my forte. Languages were the ones I hated most in school, moreover English was my 3rd language of choice.
Poor writing skill is what prevented me from starting a blog earlier in 2005/2006 when just about every blog producing regular updates became mega blogs.
The passion for finance, willingness to share my opinion in public, an urge to have a name in public, and a wish to become an owner of a successful business, are the main driving factors towards starting this blog.
Why should you read this blog? I do not have a shortcut answer, indeed, the information I give you is not exceptional, except a few. You can certainly find ways to save money in your day-to-day life elsewhere. You can read professionally written investor newsletters for your investment needs. There is plenty of material to increase your productivity that is on the internet.
Moreover, I do not disclose my actual income or expenses on this blog, I'll never reveal my blog earnings either. So, I couldn't find a compelling reason for you to stick to my blog.
At most what I can say is, there is a little difference in my approach to blogging (so does everyone else). Like the way every human being is unique, my approach to personal finance is also equally unique.
I not only talk about money but also talk about overall improvement in one's life. I write about improving my social life, I talk about spending money on things I cherish. I talk about cleaning the inner self and enjoying each moment of our lives. I write about becoming happier and enjoying life and everything it has to offer.
Blogging helps me gain knowledge, I learn new things with each post I publish. I am not a master of the topics I write on this blog, rather, it's for my learning as well that I write.
I will keep on adding more information on this page. Thanks for your time,  would appreciate it if you write a comment stating how you feel about my blog.
Helping Other Bloggers
When I started blogging many bloggers helped me. I wouldn't have been in this position today without their help. I am committed to helping other bloggers. I can help you with hosting, managing blogs, getting advertisers, suggesting content and many more aspects of blogging.
If you are an aspiring blogger, read my post on how to start a blog in 20 minutes and for $20.
Awards We received
One Cent at a Time was the finalist for the Plutus award as "Best new personal finance blog of the Year 2011".
One Cent at a Time won the best personal finance blog, by an Indian writer award in 2013.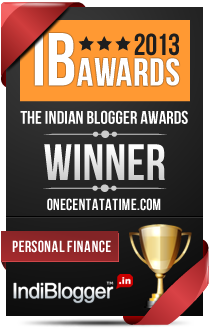 Elevator Pitch: One Cent at a Time is a blog from a common man trying to become rich in life. I learn and then jot down the everyday process of becoming rich Financially, Socially, Emotionally, and Spiritually. I blog to get ahead and to teach you to get ahead, One Cent at a Time! 
Address – 12001 Metric Blvd, Austin, TX 78758
Email – [email protected]