Surprise surprise! my FICO score reached an all-time high this month. I am now at 813. It's so satisfying that our personal finance habits, the habit of handling credit responsibly has paid off. I have posted several articles on improving credit score. Today I'll write about my credit score, how it reached 813, the factors that went in my favor, also the ones that'll have to be improved further. Let's first start with what's on FICO.
My FICO Credit Score report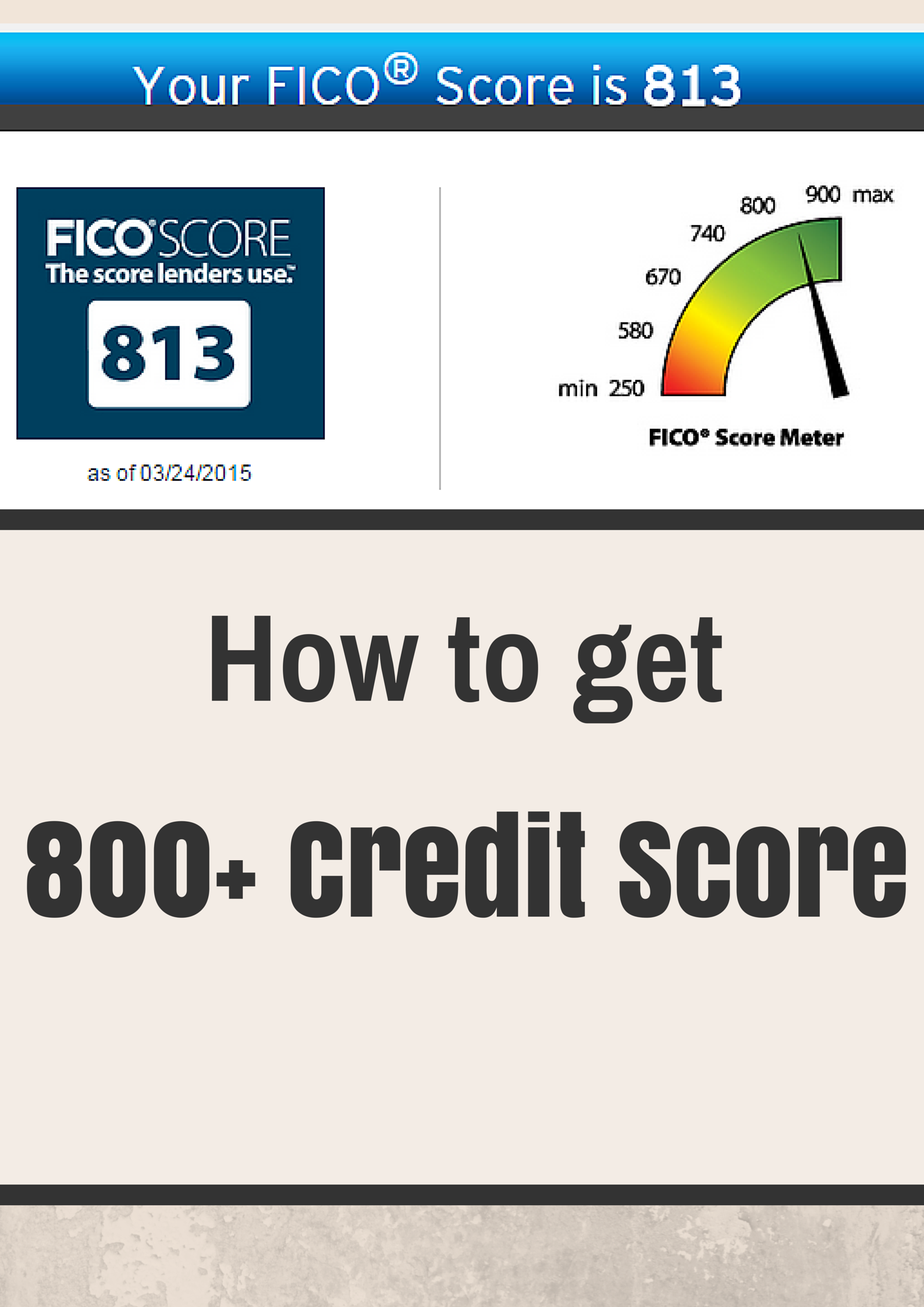 Congratulations – You have an exceptional FICO® Score. The below factor(s) are informative but not significant as they represent very marginal areas where your score was adversely affected. Keep up your good financial habits! Key Factor(s) affecting your FICO® Score:
Too many inquiries last 12 months – Each time you apply for credit a credit inquiry is added to your credit report. People who are actively seeking credit pose more of a risk to lenders than those who are not. Your FICO® Score was lowered due to the number of credit inquiries within the last 12 months.
Length of time accounts has been established – People who do not frequently open new accounts and have longer credit histories generally pose less risk to lenders. In your case, the age of your oldest revolving account and/or the average age of your accounts is relatively low.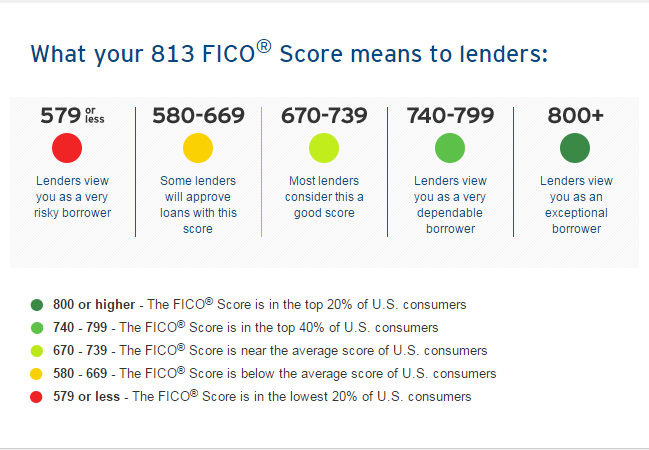 Want to Know Your Credit Score for Free?
What Constitute FICO Score?
The below diagram explains the constituents of a FICO score.
Do you want to know more?
Here's how I did in each of the determining factors
To the best of my knowledge and memory, this is how I used my credits for the past 10 years, that helped me achieve 813 today
1. Payment history – We were never late in paying credit card bills, medical bills, utility bills, traffic tickets. Not even for a single month. We have auto-pay set up on all 4 credit card accounts, for the entire balance. So the full card balance gets deducted from checking account before the due date. I do not carry any balance. Why pay interest charges at all? But, it doesn't matter if you pay your minimum due or the entire balance, as far as impact to score is concerned.
2. The amount we owe – Because we buy everything with a credit card, our bills usually run high. Also being a new homeowner I have a huge mortgage to pay.  So, what went in my favor? One trick I played with a credit balance. Every big purchase was paid off before they appeared on the month-end statement. Which helped to get lower statement balance.
So if I buy, say a piece of furniture or a flight ticket (my parents are in India, so we go to India almost every year), I pay it off immediately. The reward is mine to keep while FICO has no clue about it. On months, I spent more than 5 grands, sometimes 8 grands. But month-end statement never touched more than 2 grands.
There's another part to it, your credit limit. I increased my combined credit limit from $500 in 2005 (when I arrived in the US) to $150,000 by the end of 2014. I increased them gradually by calling banks and asking for an increase. Rarely raise was from the bank itself. Having a high credit limit reduced the debt to credit ratio. Having a debt of $500 against a $1,000 credit line is worse than having $2,000 debt against a $10,000 credit line.
3. The length of credit history is very relevant. FICO horizon is 7 years, It usually doesn't remember anything beyond that period. We have been using the same 4 credit cards for more than 7 years. No new revolving credit line opened since then. We have an auto loan which is 4 years old (we got a 0% loan from Toyota finance. So we didn't go for the all-cash transactions). The only mortgage is less than a year old. Very soon, I expect to see a jump in credit score once the mortgage age reaches one year, which will be in September.
4. New credit is a two-edged sword. When you open, it immediately reduces the score. After about 6 months the decrease gets offset and then it helps to get the score higher. When we took the auto loan, my score came down by 6 points. But for the first 12 months, I got an increase of two points every month. Once the loan reached 12 months mark, I got a jump of 6 points
But for some reason still unknown to me, the new mortgage increased score by 12 points. One explanation could be that home is an appreciating asset whereas a car is always depreciating.
My February score was 803. So this month I got a boost of 10 points. I think because our mortgage age reached 6 months in February. But, it's just speculation.
A new credit card reduces the score by quite a few points but it usually comes back up within a few months of regular payment.
5. Types of credit – I have a mortgage, Auto loan and revolving credit card. An auto loan will be there for another year and a half. I am quite interested to know what happens after we pay off that auto loan
Scope of Further Improvement
The two factors that went against me are, not having enough age on credit accounts and having made too many inquiries in the last 12 months.
As my car loan and mortgage ages, I expect to see further improvement in the age of credit accounts.
I had too many credit inquiries in the last 12 months, that's obvious because I was shopping for a mortgage. So September 2015 onward I expect to see a jump in my score. Because all the credit inquiries were made in August 2014.
Last but not least, I'll have to continue to pay my bills on time every month.
I am confident, as my mortgage debt comes down gradually, my score will go higher and eventually touch that magic figure of 850, the perfect FICO!
So, that was our way of getting to 813. Few more steps to go before I'd say I had achieved perfection. Right now I am satisfied to reach a stage where less than 1% of Americans reach. My goal was to cross 800, now after achieving that the next target is to reach 830 by the same time next year. I will keep on reporting my progress.
Thanks for reading and if you need further clarification, need help getting a free credit score or if you have any questions, leave a comment or email me.
Want to Know Your Credit Score for Free?
Edited 8/17/2015: today I reached a score of 833. Things moved faster than I thought it would. Not sure what caused this. But I'll soon find it out.