When I was a college student, I received my first credit card offer. I didn't know it at the time, but that one credit card would lead me down a financially destructive path and eventually to $12,000 in credit card debt. It took me three years to dig myself out of the financial hole I got myself into- and I learned many lessons along the way. I now want to use what I've learned to help others on their debt pay-off journeys.
I believe anyone can get out of debt, no matter how impossible it may seem. I know what that hopelessness feels like, but I also know what it feels like to finally be debt-free after years of drowning in credit card debt. I hope my story inspires you and gives you the confidence you need to start paying off debt so you can have a more secure financial future.
I used credit to live above my means
After I received the credit approval and received my shiny new plastic card in the mail, I didn't use it to overspend and live out of my means (at first).
I mainly used it for basic expenses such as groceries and utility bills.
But before I knew it, I started swiping my new credit card more and rarely using cash and debit cards.
It seemed easier and felt good not spending my own money on purchases.
I thought of credit cards as "free money," not debt that would have to be paid back with interest.
With this mentality, it's not surprising that my credit card balances quickly ballooned to $12,000.
I started paying more, but the balances weren't decreasing
I knew I was in serious trouble when I started paying more than the minimum payments due each month on my credit cards, but the balances were increasing instead of decreasing due to high interest rates.
This was when I realized that I would be buried in debt forever if I didn't change.
After this realization, I decided I needed a plan to aggressively and efficiently attack my debt.
I started doing research and came across a strategy called the debt snowball method.
What is the debt snowball method?
The debt snowball is one of the most popular debt-repayment strategies. Let's say you have three credit cards:
Card 1: $2500 balance
Card 2: $1200 balance
Card 3: $500 balance
With the debt snowball method, you continue making the minimum payments on all your credit cards.
Any extra money you have available, you direct towards the card with the smallest credit card balance first (the $500 one).
Then, once you pay off that credit card, you start paying extra on the next smallest balance, re-directing the money you used to pay the previous card off.
Directing all your extra money towards the smallest debt first is usually the easiest and quickest way to pay off debt.
It is a popular method because it recognizes the role human nature plays in finances. For example, because I paid off my smallest debt first, I saw results and progress fast.
This helped give me the motivation I needed to stay on track with paying off my debt.
How I paid off my credit card debt using the debt snowball method
After realizing the severity of my credit card debt and that I wanted a different financial future, one of the first steps I took was finding ways to reduce the interest rates on my credit cards.
I useda rate comparison website to identify credit cards I could apply to that had lower rates and then transferred the balance of one of my credit card (the one with the highest balance) onto the new card.
My interest rates dropped from around 20% to 10%.
This reduction in interest was a turning point in my debt pay-off journey, because I started to make progress on my debt faster.
By the time my total credit card debt reached $12,000, the balance was spread out among four different cards.
I made all the minimum payments but paid $150 extra out of every paycheck towards my credit card with the smallest balance.
With the minimum payment and the extra amount, I was paying $370 per month towards my debt snowball plan.
Once I paid off the first credit card, I re-directed the $150 towards my next card (the one with the second smallest balance).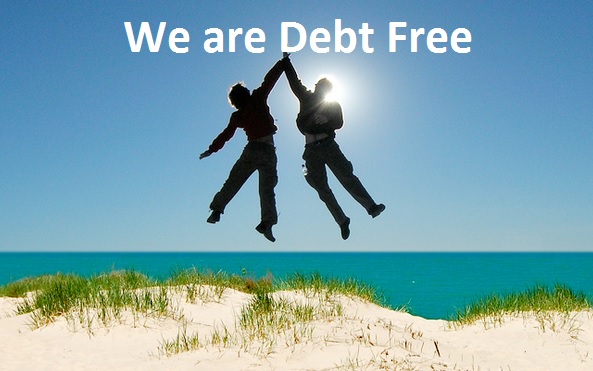 I found ways to cut my expenses and stick to a bare-bones budget so I could pay more towards my debt.
Additionally, I started a side hustle to bring in some extra money that I could put towards my debt.
It took me about three years, from the moment I realized I was in trouble with debt to the day I paid off my final credit card.
I stopped all spending on my credit cards
One of the most important steps I took while paying off my debt was stopping all credit card spending completely.
I promised myself that I would not spend a single dollar on credit and instead only use my debit card and cash.
This decision was essential to paying off my debt as quickly as I did.
If I had kept spending on my cards while trying to pay them off, it would have taken me years to pay them off.
It is nearly impossible to pay off debt while accumulating more debt at the same time.
I cut my expenses so I could pay more towards my debt
Finding ways to budget and trim my expenses was a crucial part of paying off my debt.
Once I decided that becoming debt-free was my number one priority, I made a list of my expenses and figured out ways to reduce my spending.
For example, I had several recurring subscriptions I was no longer using, so I canceled those and re-directed the money towards my credit card debt.
I also decided to temporarily stop going out to eat while I was paying off my debt. It wasn't easy but seeing my credit card balances go from $12,000 to $0 in three years made it all worth it.
If I can become debt-free, so can you
I'm not saying paying off thousands in credit card debt is an easy task- far from it.
I am saying it is possible if you are motivated and willing to put in the work.
When I started paying off my debt, I had no idea how I was going to pull it off and didn't have a lot of financial knowledge.
I did some research, made a plan, and stuck with it.
Though it might be a long journey, I promise it's worth it.
About the author: Arthur Dubois is passionate about personal finance and financial technology, Arthur Dubois is a writer and SEO specialist at Hardbacon. Since his arrival in Canada, he's built his credit score from nothing.