If you have insurmountable debt, you're not alone – the level of household debt is increasing in America, rising at an average rate of nearly $3200 a year between 2001 and 2011. Even more worryingly, high interest debt – such as credit cards and unsecured loans – rose by more than 30% over the same period. When you consider how much extra it costs to pay just the interest on this extra debt, it's no wonder that many American families are experiencing financial difficulties – and the stress that goes along with it.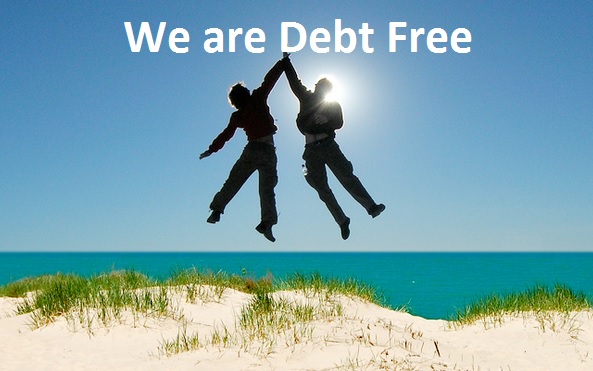 In September I published a guest post containing a real life story on getting out of debt. Slightly more than a year I listed as much as 51 ways to get out of debt. I sometimes feel that finding 51 ways to get out of debt is little overwhelming. Here's a simple approach to discuss debt problem. Just consider a simple solution which has only three steps.
Once you find yourself in debt – and it's easy to get there – there's no point in getting mad at yourself. While you may think you have been foolish, spending all your time cursing isn't going to fix the problem. Instead, you need to take positive steps to fix the situation, and then make up your mind that you aren't going to let yourself get back into debt once you have the situation under control.
There are really only three basic approaches to lowering your debt.
First of all, you can increase the amount of money you earn – for example, you could take a second job or work more overtime.
Second, you can cut back on your expenses – eliminating everything that is nonessential from your monthly budget.
Third, you can try to reduce the amount that your debt costs you – for instance by looking for lower interest rates.
In fact, if you are going to address your debt effectively, you need to look at all three of these methods.
For some people, generating extra employment income to pay down the debt isn't an option, particularly if they are in a 9 to 5 job and don't have any other skills they can put to good use. However, it's worthwhile taking stock of what skills you do have, and seeing whether you can turn these into extra income.
For example, if you are a teacher, you could do some private tutoring, or if you have a knack for organizing things, you could start with a part-time event-planning business. Even if you have some office skills or can write, there are freelancing jobs available that will bring in extra cash – take a look at sites such as Elance and Odesk to see if you can spot work you could do.
(Related –  19 Pretty Things to Make Debt Snowball a Motivating Factor)
To reduce how much your debt costs you, you need to find less expensive financing options compared to what you are currently paying. The good news is that interest rates are low right now.
This is because the Federal Reserve is setting low rates to stimulate the economy, and is also pumping money into the economy for the same reason – see Ken Fisher's Forbes article, "Betting Against Bernanke" for more about this.
Provided that your credit is still okay, you may be able to get an unsecured loan to pay off things such as credit cards. However, if you can't, there is still the option of applying for an unsecured loan – where you offer your house or car as security.
You're actually likely to get a better rate on a secured loan, but of course whatever you offer as security – such as your house – is at risk.
Finally, there is the big one – bringing down your monthly expenses. You have to realize up front that this is going to involve some pain, and that you will have to make sacrifices. Just remember, this isn't going to be forever – you will be able to start enjoying life's little luxuries again once your debt has come down to manageable levels. Start out by making a monthly budget that lists all of your expenses.
(See Also – What to do About Debt)
This needs to include everything, not just the major items such as your car or groceries – you would be surprised at how much money you spend on little things such as lunch out or picking up a cup of coffee on the way into work.
Once you have the budget, highlight all the things you know you can do without – for example, keeping up with the latest fashion. Also, look at other ways that you can reduce the cost of the things you do need – can you get cheaper internet service for example? (See – Do it Yourself Debt Consolidation Guide)
Once you have identified all the possible savings, what you're left with is your monthly budget. Add back in a small allowance for yourself – you will go up the wall if you deprive yourself of everything – and then stick to it. If you do this, your debt should soon be under control.
Readers, no debt is insurmountable, you can get over your debt if you try sincerely and long enough.