On a lazy Sunday afternoon, while SMB was away with her friend, I was looking at the Google Analytics report to research search ranking of my articles. Google Analytics reports the exact search terms used to visit the blog among various other things. One search term caught my attention. It was "I work as a car cleaner how to use my money earn for my future".
The search term reminded me of the population (extremely poor) for whom we, personal finance bloggers, never write. I can recall two of my posts that may be relevant to the low wage earners, living life under $10,000 a year and live like in 19th Century to be debt free. These articles are of extreme frugality and require you to give up most good things in life to win against all odds.
I never wrote about people who earn minimum wages, people who do not have access to a decent place to live, a decent vehicle to move around. This car cleaner, who was searching, might be accessing internet from a public library. Here's an attempt to rectify the lack of attention towards this class of people.
Caution! this is extremely long article.
The question is – They earn $8 per hour, how can they save for their retirement?
Living in extreme frugality is not new to me. While growing up in India, I saw it all the time and everywhere I went. I saw families living in a single room with water leaking from everywhere, I saw people sleeping with cows and goats for lack of space.
You, my readers, could never imagine how horrifying it was. We were slightly affluent, my father worked in a respectable position for a steel company. But, since he had to feed an extended family, we never saw plenty in our life. We struggled to get better things, better clothes, better education and even better meals. Dining out was a luxury for us and was only reserved for special occasions.
In fact, not having plenty, fighting for existence and seeing poverty all around us was just normal to me. We knew about the existence of other world, the first world, where people were rich. That world was not normal to me in my childhood. I aspired to be in that first world some day. This inspiration helped me winning battles of supremacy beating million other students and job seekers.
Now I belong to the first world. Luck favored me and I became what I wanted to become. But, I eventually realized that first world is not that bright either. There are people who are poor, live in shelters, beg for life.
This is probably my first article geared towards that population. While writing this I continuously imagined my car cleaner, at the detailing shop I go twice a year. The guy is Kevin, he is full of life, always smiling and singing. I talk to him every time I visit the place. He is a bachelor and lives with a friend in a Miami Suburb.
I'll try to chart a path towards saving money for low wage earners in a few steps. All the steps are essential for you to follow to save money for your future. I will not only tell what to do but also will guide you to 'how to do' part. Just remember –
You don't need a large pay check to start building your retirement saving.
Calculate your saving and spending in last 12 months
Most likely you are spending all your earning or spending more than what you are earning if you have access to borrow money, on credit card or from friends, parents and other family members.
In case this is asking for too much, just maintain a list for next two months. List all your earning and expenditure. Check if you have a positive cash flow or negative. If you have a positive cash flow then you are already miles ahead. If not, you need to carefully study your spending pattern.
If you do not have a computer, take a piece of white paper. On one side list down all your earning, including tips and over time apart from regular wages. On the other side list one expenditure per line, till the page runs out of space. If it does, take another blank paper.
At the end of each month tally the numbers and calculate the cash flow.
Cash Flow  = Monthly Income – Monthly expenditure
Now in next step let's concentrate on how to make this a positive number or, if it's already a positive number, we will try to make it a bigger positive number.
At the end of this step, you know where you stand financially at present.
Find more money
Find out how much money you have already saved. If there is something you have let's not touch it. In case the money is not in the bank, please keep it there.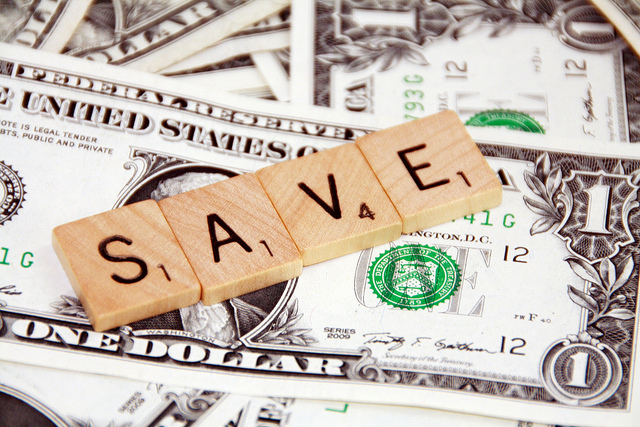 You know the proverb "rich gets richer and poor gets poorer". Don't let someone else take the money you have saved so far, a bank is the safest place for your money. It's so trivial job to open a bank account that no body talks about it. Here's all you need to know about opening a checking bank account in your nearest bank branch.
Remember this article is for the people who do not have much access to information and that's the reason I am talking at such a basic level.
Do not touch the money you have saved so far, this money is what we call as "emergency fund". Whatever amount it may be $500 or $5000 do not touch this money and let it be in your checking account. Take out the money only in case of emergency, this money is not to impress others. Read more about emergency fund.
Now, if you do not have anything saved so far, don't lose heart you will be able to save soon.
Now there are broadly three ways to find money in your life. I suggest doing all three together. You can do it, believe me.
1. Get a raise in current job – It's not easy to achieve. Talking about my car cleaner, Kevin, He earns handsome tips by just being the angel for his customers. His hard work to make cars beautiful, pleasing personality and talking while showing full respect to customers some times earn him even a $20 bill.
What if you sweep roads, like the picture above? You probably will never get a raise, right?
Talk to your supervisor, see what other jobs the corporation have out there. See if you can qualify for any of such jobs where you will get a better salary.
When everything else fails, try to ask for over time, if you are physically able. Impress your manager with your sincerity and hard work. Your superiority will be noticed in due course. You'll be rewarded eventually with a raise. But, often changing the line of work might become a the last resort.
Can you learn a few basic mechanical work while working as a cleaner? I am sure you can!
I know a Mexican immigrant laborer who used to mow lawns in our apartment complex. He's now with a local nursery, earning $2 extra per hour. A $2 per hour extra wage is equal to $2000 extra money per year.
2. Try to find a side income stream – Possibilities are endless. I earn handsome side money through advertisements on this blog. My next door neighbor operates a mini nursery from their patio.
People from nearby communities order plants with them and within 3 – 4 weeks they supply plants after growing them from seed. They get 100 seeds in $1 (per packet cost), and, sell one plant for $1, compared to Home depot selling the same plant for $4 or more.
Still he earns $99 per packet of seed!
Here's one of the most viewed blogs I have written so far, 101 Ways to Earn Extra Money on the Side, if you're looking for an idea.
3. Cut back on expenditure – Did you try to cut back on all unnecessary spending you do? Did you consider moving to a different place where cost of living is much cheaper with similar employment opportunity as of the current place? Per CNN Money these are the best places to be in America.
One of my most successful blogs is 101 Ways to Save Money Everyday, this can be a very good guide for you to cut back. Implement the ideas, as much as possible.
I have no better example than myself. I got raise in all 12 years of my working life as a software professional, I earn money through this blog and the extra money I earn will soon surpass my day job salary, provided this blog grows constantly for next couple of years. And lastly we never spend more than 50% of my salary income. We are a single income family.
If I can do it, so do you!
You can't implement all three from next month. You can certainly start cutting back from today. Can you limit alcohol in your life? Can you try to return the new pair of shoes you recently bought? Do you really need to be in stadium to watch your favorite team?
Cut back can start now, side income can start from next week and getting a raise may take up to a year. But, try from today. Think about doing side gig, what interest you? Where you can enjoy doing certain things and earn money as well?
Do you deliver pizza and you are good at Music? If you can teach music, hand deliver leaflets to households you deliver pizza to.In no time you will start teaching music lessons to kids.
If you're in a customer facing job, start impressing your customers, first do it without any expectation of return favor. Eventually repeat customers would extend tips towards you.
First few times Kevin returned empty-handed after cleaning my car, now I never forget to hand him a $5 bill (above the car detailing charges).
Basically, you never stop looking for more money. Till your brain and body permits, you'll have to find way for earning more money. It's the most essential ingredient for your future life.
At the end of this step, you know how to save money from your minimum wage.
Set a target for saving and stick with it
Here's the fun part begins, the mind game!
When you reach at a positive cash flow, of say $2 a day, try to take it to $5 per day. If it's already $5 per day, try to make it $10 per day.
I'll assume you can save $10 per day by putting extra hours at work, or cutting back on some spending and with extra money you can make on the side. That makes $200 per month in saving, not bad!
This $200 per month will become more than $100,000 after 30 years by the power of compound interest. Here's one article to help you with the math, in case you are wondering, become rich by saving 1 hour of wage.
Now we will consider emergency fund once again. Saving for future is one thing and having enough money in case of emergencies is another. We need to secure our life first. Gurus suggest saving 3 – 6 months of expenditure for emergencies. An emergency can be a job loss, medical issue, property damage, etc.
Wait till you reach at least 3 months of your monthly expenditure. Continue to save all the money in your checking account.
Once your emergency fund reaches the target, it's time to secure your future.
Set your future saving target. See our guide how much do you need to save for retirement. This is a wonderful calculator that can tell you how much you need to save every year in your retirement account to achieve your monthly income goal during your retirement.
If, for example, you need to save $2000 every year, you need to find ways to make that much saving in a year. It's very important to maintain consistency. Saving $200 in one month and $50 the other month will not let you reach your desired level.
At the end of this step you know, how much you need to save every month.
Invest in retirement saving and do not withdraw before retirement
Once you have emergency fund built and your monthly saving target known, it's time to open a retirement saving account. They come in different name and flavors. 401 (k), IRA and Roth IRA. I suggest you do not waste your time knowing what are they and which one is for you. Let it be left with experts in the business.
Go to the same bank where you opened your checking account. Ask for a financial advisor. It's very important for you not to do things online or with a friend's help. If something goes wrong you'll repent the entire life.
Let your investment banker decide which one to open, IRA or Roth IRA or annuities, or something else. I have investment in 401 (k) and Roth IRA, for the record. Throughout the article I assumed that you do not have access to employer match in 401 (k). If you have even a tiny fraction of employer match, go for 401 (k) first.
Discuss this situation with your banker and let him/her make the decision for you.
I will also suggest you stick with only one bank for your checking account and retirement account. Bank of America, Chase, Wells Fargo are all very good to keep your trusted money with, to name a few.
I suggest having it in the same bank as it will give you comfort when you'll see your money intact in your checking account.
Another important suggestion, do not cancel paper statement delivery. Al though I went paperless couple of years ago. But I have access to internet 24/7, you might be not. It's important for you to see your money's value whenever you want.
A printed piece of paper with your monthly statement is of huge comfort. When you sacrifice immediate fun to secure your future. When you need the mental strength to cancel a visit to a movie theater, you might want to take a look at the latest monthly statement. You can succumb to pressure and deviate from your plan any time, you need to be mentally strong and you'll need a tangible support.
At most banks, within 7 days you can have your retirement saving account set up and running. Remember you'll have to either set up an auto investment from your checking account or have to manually transfer money to this retirement account every month. I suggest you do it every month by either depositing online from your checking account or by visiting the bank branch.
Having auto investment setup is good when you have steady income stream and you get used to desired level of saving. Till you reach there, do it manually every month.
Another important decision is to invest your money, in stocks, funds and bonds, etc. Again, let it be handled by your banker. This is not your forte, don't decide on your own and do not take any non qualified person's opinion, extremely important!
Lastly, do not take out any money from this account before you turn 59 years and 6 months. Else, you'll have to pay regular tax + 10% penalty. This money is yours and waiting for you to retire before it'll come back to you. Think along this direction whenever you are tempted to withdraw from your retirement account.
In the mean time, any extra earning or saving, beyond our monthly investment target, can safely go in to your checking account boosting your emergency fund or a fund for your children's education. If you wish you can contribute more than required amount in retirement account too.
I strongly favor having some fun out of this extra savings. An occasional vacation trip, a new electronic gadget, etc can be thought of. Make saving a fun, be a motivated saver.
At the end of this step, you have your retirement account up and running.
Make a habit to check your saving and be happy when they grow
I'll suggest you sit with this person (your advisor at the bank) every quarter. They usually would try not to entertain you beyond that first account set up, unless you have a lot f money to invest. It's of your own interest to talk to him regularly. Try logging in to online account through internet. Ask your advisor to guide you through their internet portal.
It's extremely important that you start understanding your statement of account. Ask your advisor to teach you that, if you are unable to on your own.
I am repeating these trivial steps again and again with only one objective in mind, you should not lose connection with this money you are keeping aside for future. You should always see it, always measure it and always think it's your money growing there.
At this stage you start feeling that you are on to something real good. This will make your future bright for you and your dear ones.
Educate and inspire others to take the same steps
Knowledge and interest grow when you try to share it with others. This article is just a guide. When you implement things as per this article only then it will become a reality, a true fact.  And, when a true fact is shared it becomes authentic recipe for success.
Try to teach your co-worker, your brother or your best buddy. Tell them to do x,y,z things to secure their future. You can be an authority among the group of people in your circle.
Kudos to the car cleaner who searched the subject on net. I wish you were reading this post now. All the best bro!
At the end of this stage, you no longer need to get access to your account round the clock, you no longer need to be more inspired. You are a pro now.
It is not hard to save for your future, only asset you need is your human capital, that is your willingness, knowledge and hard-working ability. I can only try to educate here and that's what I just did. Now it's up to you to work on the advice and secure your future.
You'll also need to have a strong support system of family and friends. If you believe in yourself, they'll believe in you. All the best in your en-devour!
Here's an article from Department of Labor, suggesting 10 ways to prepare for retirement saving, this might come in handy along with this mammoth tutorial towards everything retirement.
Readers, this is by far my longest article till date. I hope I did justice to people in need. Do let me know your opinion.