Many car repairs are worth making when they go smoothly. But what if you drive your car away from the mechanic and find the repair hasn't been done correctly—or hasn't been done all? Thankfully, most mechanics are thorough and professional, and unpleasant instances are the exception rather than the norm. But it's important to know what steps to take if you find yourself in a bad situation. So, what to do if your auto repair goes wrong?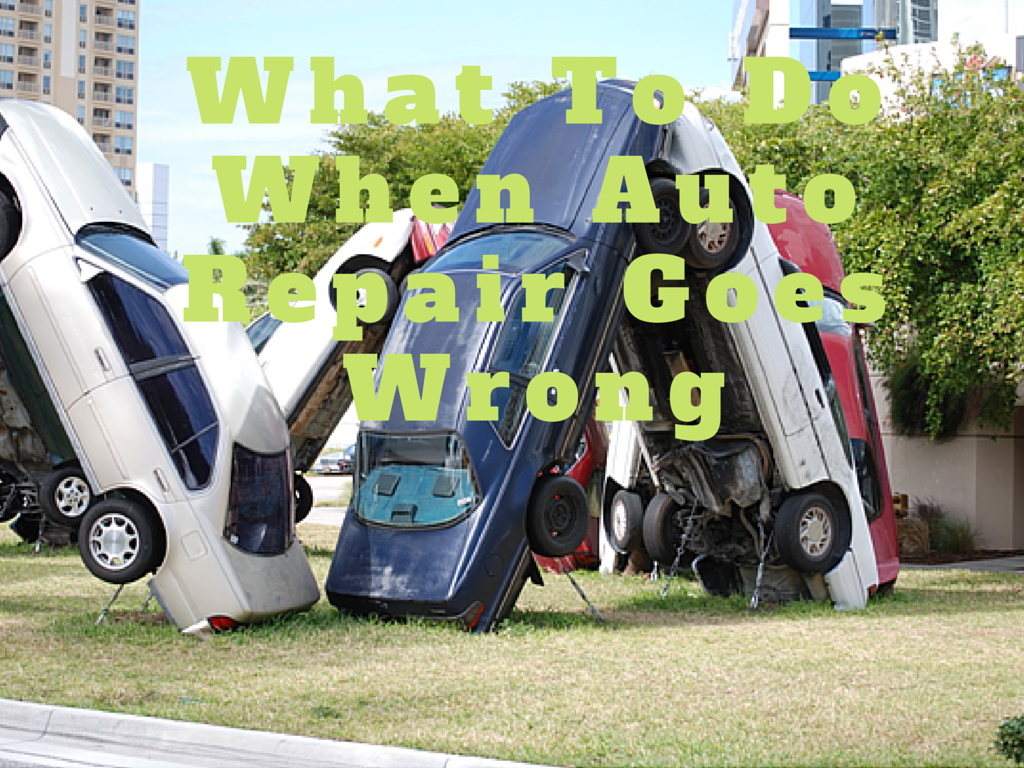 There are a number of steps that you can take prior and post the incident. Let's first briefly talk about what preventative measure you can take.
You can research on the internet about the problem and possible fixes. study what others paid for the similar task, for the similar model.
You can get competitive quotes from other mechanics/garages/shops
You can get an extended auto warranty, so that repair costs are covered
Late addition: If you want to feel about some of the mental stress a car problem can induce, read the comments below. When you have a family to take care, a job to attend to, you can't do without a working car. Dealers and mechanics often take advantage of our situation.
Most of us don't know the mechanical details of our cars. We never know if the replacement part is of good quality and not brought online from some shop in China. No wonder that most mechanical problems in an old car start within a few days of servicing or repair.
I feel helpless every time I am handed a fat bill for a simple repair. Hope this article can answer some of your plights. And let me repeat again, the comments have added great value to this article and very helpful to tell you what you should do when you feel helpless. Do read the comments.
Now let's see what are options post the wrong repair incident
What to do when auto repair goes wrong
First thing first, do not refuse payment. As per mechanics lien, if you refuse to make a payment, the mechanic may not return your car. Pay the agreed upon price and then try to work with your options. If you need help covering the cost, look into financial services like car registration loans for financing.
Often it's difficult to prove a mechanic's fault. But try all your options. after all, it's your money and your car, with your family's safety attached to it. Take details about the repair work in writing, that's the first step. State law requires repair shops to disclose all the details about the work done on your car.
Talk to your mechanic
Sometimes a simple oversight or honest mistake can lead to a faulty repair. If you're unsatisfied with the work your mechanic has done, it's important not to rush to conclusions. Return to the car repair shop, asks to speak to the mechanic and explain the situation.
Tell him what the initial issue was, what you expected from the transaction and why you're not satisfied. Most issues can be resolved by reasoning with the mechanic and be working toward a solution. Ideally, an understanding will be reached and the automobile repair will be done properly and at no extra charge.
If, after discussing the situation with your mechanic, there is still a disagreement, then it's time to explore other options.
(Related – Save money on car rental)
Determine your next move
What you should do next depends on where the repair was done. Your options will vary slightly for each type of automotive service center: a small, private garage; a chain shop; or a car dealership.
Small, private garages: Unfortunately, you have the fewest options for this type of car repair shop if your repair wasn't completed to your satisfaction. You may be able to speak with the owner or manager of the shop, but in a small garage, it's likely the owner repaired your car. If you can't reach an agreement, determine whether you want to eat the loss or take legal action.
Chain garages: You have a few more options if your vehicle was serviced at a chain shop. Automobile repairs at a chain garage will generally be more expensive than at a mom and pop car repair shop, but that extra expense means the company can afford to employ customer service representatives. If you have an issue with a repair, speak to the manager of the garage. If an agreement still can't be reached, escalate the issue to the corporate office. The outcome depends heavily on your situation, but many corporations are willing to concede the cost of a repair in the interest of preserving good customer relations.
Dealerships: Your options at a dealership are similar to chain car repair shops. Since dealerships are often affiliated with a larger corporate entity, you'll have additional customer service options. Follow the chain of command from the mechanic to the manager to the owner to corporate headquarters, if necessary, to resolve your issue.
Negotiation tip: Due to the rise in the popularity of social media, 'Twitter' has become an effective customer service tool. There are several documented instances of dissatisfied customers reaching out to a company's Twitter account and getting resolution.
The potential reach and impact of one negative tweet have created a huge incentive for companies to rectify customer dissatisfaction quickly and publicly. If the company or garage doesn't have a Twitter account (or even if they do), you can leverage the same idea by informing your mechanic that you'll report the unsatisfactory work to sites like the Better Business Bureau or angieslist.com.
Consider taking legal action
This option should be considered only as a last resort. Suing for damages in small claims court can be an expensive and lengthy process. Laws surrounding vehicle repairs vary by state, so visit your state's website or call the attorney general's office to discuss your options regarding "lemon laws" and other applicable legislation.
If you decide that seeking damages in court is the best option, contact small claims lawyers to compare legal fee estimates. Try to find an attorney that accepts payment only if you win your case or better still, will add legal fees and court costs to the settlement amount.
If you have automobile insurance coverage and the initial damage to your car is covered, you may be able to avoid dealing with the mechanic directly. Contact your insurance agent and let him or her know the repair was not done correctly, and the insurance company may work to resolve the problem on its end.
We should never give up. We should fight for our rights and get the best service/product we deserve. You can also approach the parent company (AAA for example) to which the local garage is affiliated.
At last, You can always approach small claims court in case the financial damage far exceed your tolerance limit.
Determine if your car is a lemon
Rarely we think of this option. But despite their best efforts, a mechanic might not be able to fix the problem with your car. Often this is due to a manufacturing defect.
You might have a lemon. Read about lemon law in your state. And take appropriate action. It's still bearable to lose $200 but if you spent a bigger amount of money without a help, you should check this option as well.
Protect your money with Auto warranty
Often, not always, an auto warranty protect us from bad repairs and related cost increases. We use Extended Auto Warranty. In my previous Hyundai Elantra, a lot of repairs were paid mostly by them.
I haven't used them for our new cars yet. When we do need them I know some of the money can be saved and we will not be entirely upon mechanic's mercy. Direct Auto Warranty is another provider with a good reputation.
Readers, did you ever face a scenario when your car servicing was not up to the mark and you were required to take action? Share your experience with us.
2 Great offers for our reader
1. Car covers protect cars from weather and sometimes from the theft of parts. Start Protecting your Car Today with a Car Cover – 50% Off Entire Store
2. Readers, I do most of the repair on our cars. We drive a BMW 528i and a Toyota Camry. I do DIY fixes for my cars. I love it! I buy parts online, it's cheapest as well. I always get discounts at the Advanced auto parts store. Upon request, they have given me a special discount coupon for my blog readers. Here's the link to redeem this coupon. Save $30 off Purchases of $75 or more at AdvanceAutoParts.com with code BIG30!. 
Check the prices over there, even without the discount, prices are cheaper than local garage prices. And about the stock, they are a big warehouse so anything is available there.
Just for an example, last month I changed batteries on my BMW, I paid less than $200 including shipping. I was quoted $532 at nearest BMW dealer and a local garage quoted $450 flat rate. DIY is the way to go, for you vehicle's health. And, real men enjoy DIY stuff, isn't it?