The following is a guest post from Micah Moon, who talks about winter car care in this article.
There's no doubt the same principles that apply to car care in the summer do not apply in the colder winter months.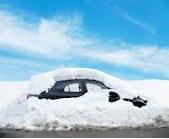 While your car zipped through summer with only the sound of the air conditioning buzzing in your ear, now that the winter chill is upon us, you may notice a few differences in the way your car handles and sounds.
Follow these eight winter car care secrets to save you money and extend the life of your car.
1. Tune it up. A tune-up at the beginning of the season is possibly the best thing you can do for your car before winter begins. In colder temperatures, the metal on your car expands and contracts causing belts to squeak, gears to stick and a lag in transmission shifting. A seasonal tune-up will help prevent squeaking, scraping and sticking, and prevent additional damage that often costs a lot of money to repair.
2. Oil it up. Make sure to get an oil change at the beginning of the winter season. This is important because there is a special grade of engine oil to use during the winter that offers a different viscosity and allows for more fluidity between all the moving parts within your car. This simple switch can go a long way in extending the life of your car, which will save you money.
3. Wash it up. The salt that covers icy streets and sidewalks can rust and damage your car. Spending about $10 a week on a thorough car wash – including underneath the body — can save you hundreds, and even thousands, of dollars in  auto body repairs by helping prevent rust.
(Related – Save money on car rental)
4. Fill it up. When it's cold, make sure to fill up using the right types of transmission fluid, engine oil, anti-freeze and other fluids for cold weather. This should save you money by preventing damage that results from using fluids that aren't graded for low temperatures. Proper de-icing windshield wiper fluid will also put off the need to buy new windshield wiper blades, which often become dull and break after getting stuck trying to wipe away ice, sleet and snow.
5. Switch it up. Always keep tires properly filled and, if you can afford to, invest in seasonal/snow tires. Doing so will not only save your suspension as you drive on difficult winter terrain, but also may save you from having to purchase another set of tires when your everyday tires wear down sooner than expected.
6. Gas it up. Make sure you always have at least a half tank of gas to prevent running out and having to call a tow truck, which doesn't come cheap.
7. Stock it up. Invest in an emergency car kit that includes a flashlight, flares, blanket, first aid kit, shovel and even tire chains. This purchase could save you hundreds of dollars by preventing the need to call a tow truck and allowing you to get where you're going on time.
8. Protect it up. Lastly, one of the best ways to save money is to make sure you always have the vehicle insurance you need to protect yourself from all winter risks. Finding the insurance coverage you need is as easy as doing some research and requesting a few quotes – so protect yourself and your car this winter!
SB's thought: I can't thank my fate enough that I live in South Florida where I don't have to deal with this situation. The thought of driving up and down an elevated roadway in icy condition gives me cold feet. I hope you will follow the tips and save car care cost while having a safer drive.
What do you think readers? Do you have any other tips to share with others?