According to Creditdonkey, an individual spends an average of $250 per month on groceries while a household of four spends on average of $712 to $1106 per month. Food is one of the bigger expenses every individual incurs with the biggest being housing and transportation.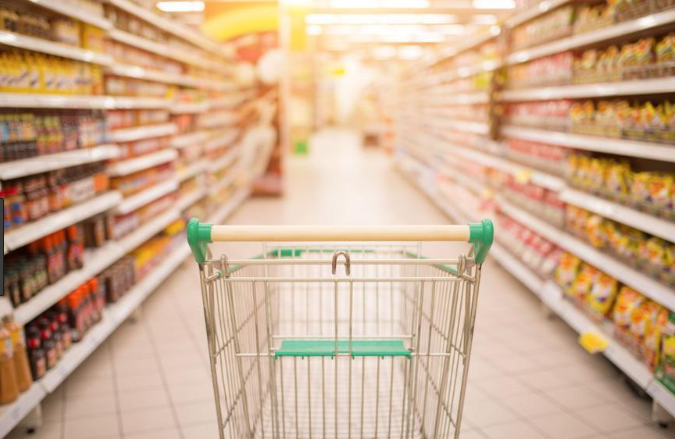 If you are looking to save money on groceries to free up extra cash for other means then check out my 5 grocery shopping tips!
Why should you trust me?
Well, because I currently work within the grocery industry and "I've seen things…" Things that will help you save money.
Keep in mind, all grocery companies have different rules and policies so try using these tips and hopefully, you will be able to start shaving that grocery bill down to size!
Save Money on Groceries by shopping with the flyer
Shopping with the flyer is an obvious point, but hear me out first. A good majority of people only use the flyer to look at what's on the front page.
Do you know how I know this?
Back when I booked my items for the sale, I noticed a weird pattern. An item (i.e. strawberries) that was shown on the front page of the flyer sold twice as much than when shown on the 2nd page. Why did it sell twice as much even though they were at the same price?
The reason is that the front-page items are the attention grabbers. These items are one of the reasons why you decided to go to this one grocery company over the other.
But here's the thing– there's more good stuff within the flyer and not just the front page.
Price Match your way to Save Money on Groceries
Now that you have the power to see all of the current flyers at the touch of your finger, use these flyers to price match items. Different companies will have different price match policies, so double check with your preferred store.
What is price matching? Price matching is when a store promises you to sell you the "same" item equal to the price of another competitor's flyer. Price matching is awesome because you receive two benefits.
You save money on groceries.
You don't have to travel to the other store to get the same item.
Keep in mind, I bolded the word "same". Grocery items are differentiated by their SKU (barcode). Each item with consideration of size, flavor, and type has its own particular SKU. In order for the price matching to work, you need to price match the EXACT same item.
I've had customers argue with me about our price matching policy. We didn't have a 5PK Kraft Dinner for $3 like the other competitor so, she started going off saying how she should be entitled to price-match 5 individual Kraft Dinner for $0.60 each. Makes sense, but unfortunately, they are different items belonging to different SKUs.
Shop for Reduced Items
Produce, meat, and bakery are some of the few departments who's shelf life does not last long. If you're looking to save yourself upwards of 50% off and don't mind finishing the food within a few days then definitely look for items with big reduction stickers. If they don't have reduction stickers then politely ask the manager if it would be okay to get this item reduced due to its close expiry date.
This really depends on the grocery store that you are shopping at because they might have two different mentalities.
We only want to sell groceries of the finest quality at our store, so, unfortunately, we can't sell you this.
We try to make a few bucks off anything we can before it expires.
There are many factors that go into whether or not you can buy an item at a reduced price.
Store policy and procedures
Management/Supervisor's decision
The turnover rate of the item (how fast it will sell)
The severity of the condition (rotten? or still good to eat)
Cost ($30 meat reduced at 50% is a huge loss to the company)
Customer's attitude (be friendly and ask politely)
A good rule of thumb as to when an item can be reduced is within 3 days. If the item is nearing it's 3-day expiry date then it should be tagged and reduced.
Clearance Shopping
Consider shopping around the clearance section if your grocery store has one. There's nothing wrong with the items on the clearance rack. There are many reasons why an item might be found on the clearance rack.
Discontinued Items
Removed from Shelves
Mis-pick Item

Discontinued Items
The economy is constantly changing and manufacturers are making new products while discontinuing the old. When an item is discontinued, it means that the item will no longer be delivered and thus, have no reason to remain on the shelf.
Rather than letting it collect dust in the stockroom, these items are reduced for clearance. What does that mean? More savings on your grocery bill!
Removed from Shelves
There are many shelves and aisles within a grocery store and it can sometimes be overwhelming to find everything that you need without pacing down the aisles.
Once you find the spot for that particular item, you know next time where to look. Why? because each item has its own home on a shelf. This is called a planogram.
Whenever an item gets removed from the planogram, it means that it no longer has a home. Either the item is discontinued or they're making room for another item, it has to be moved somewhere.
And where does it go? You guessed it. The clearance rack.
Mispick Items
Let me make this clear to you first, grocery stores do NOT have a warehouse stockroom. Many people have this false assumption that the stockroom has extra cases of each item. They don't.
The grocery store receives their loads every day from their warehouse. When it comes to mispicking, warehouses have 1000s of different items stored on pallets and the likelihood of them sending the wrong items is nothing unusual.
When an item is sent from the warehouse to the grocery store that the grocery store doesn't sell, it is pretty much almost useless because
The item is not in the system (because it wasn't meant to be ordered)
It has no planogram (no spot to put on the shelf)
It costs more to send the product back than to try to sell
Rather than screwing up the shelves and trying to make a home for it, it's 100% easier to just reduce to clear and hope it never comes back.
These were my 5 tips to help you save money on groceries! Let me know what you think!
About the author: Kirin Nguyen is a finance blogger aiming to help others better manage to save, and invest money. Finance is a subject that is lacking in today's education system' he hopes to someone who teach others