Readers, if you have scanned through my about page, you may be aware that we are for ever debt free. I also wrote about the techniques by which we are debt free till date. I wanted a guest post with a story telling the journey towards debt freedom. I was fortunate to get a guest post listing 51 ways to get out of debt, this post has been one of my top viewed post. So when Savion offered me this article, I was delighted. I sincerely hope this article inspire readers in debt. Enjoy the post!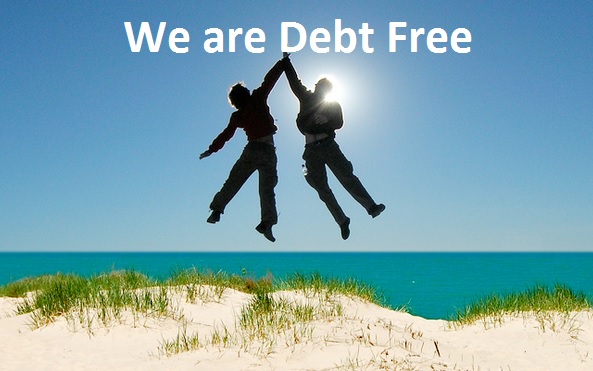 When you've dug your heels in debt and you're unable to make regular payments on your multiple bills, don't you feel that you're carrying a redwood tree on your shoulders? Your fingers remain crossed while you write checks and you hold on to your breath with each swipe of your credit card only not to see the dreaded faux pas: "declined"!
I too used to be that young man, unable to handle the huge responsibility that comes free with carrying multiple credit cards and studying in a law school with multiple student loans on your shoulder. If you're someone who has been to the law schools, you must be sure about the moment near the end of the school when they drop a bomb on you.
Well, this isn't a literal bomb but this is the envelope that carries the dynamite, the information of the total debt amount that you've accumulated during the last 3 years of law school. And guess what! Inside my envelope, the letter read that I had racked up a staggering amount of $129,000 in debt in my last three years.
But that wasn't all! I was already on the edge as I was drowning in debt since the last 5 years as between the trips to the law school, both me and my wife, had run into $756,000 worth debt. What we discovered was that despite both of us being educated, we were actually taking dumb financial decisions.
My life's irony is that we were both frugal on a daily basis and we always taught each other frugal tips as well. Although we didn't eat out too often, buy expensive groceries without the rebates, it was the huge expenses that were sinking us deeper into the debt mess.
Estimation of the financial blitz
The first step that I took was to brief up the entire damage that has been done and started adding all the debt that we owed on the different loans. The feeling was similar to that of an insurance adjuster analyzing the shambles of a home that was affected by a natural disaster. The only difference was that this was our own making. This was what followed.
$200,000 on first and second mortgage loans
$100,000 on home equity line of credit taken on a condominium
$300,000 on first mortgage loan on the same condominium
$129,000 on debt owed to the law schools
$20,000 on wife's graduate school debt and
$7000 on hybrid car loan
The total debt amount stood at $756,000. Although this is shocking but it wasn't unexpected and adding it up helped us take a better step towards eradicating it.
(Related – How much debt is too much debt?)
The secret of tackling the highest interest debt first – The debt avalanche method
The second step that we took jointly was to analyze which debt should be paid down first and it was during this time that I started searching for some effective personal finance advice that I could look for.
I soaked up advice from Clark Howard, Dave Ramsey and many other financial gurus but unfortunately our efforts were all in vain as we weren't able to pay down much debt due to the bleak job market reports. Although I worked in a law firm, I was paid an equally low salary with which it would have been impossible to tackle such hefty debts.
The dilemma between paycheck and passion – The desire to work for myself
When nothing works and you're simply not being able to repay your debts with the income that you make, according to the financial gurus, is by looking for more income. I hated the fact that I had no other option but to sit back and think about getting out of debt.
Though I had a burning desire to work on my own, working in the stifling cubicles of the law firm was actually throwing waters to my yearning. I was actually going through a dilemma between a passion and a paycheck. My job was 15 minute commute from home (one way) but the travel was taking a toll on my health and at this point we simply required to tackle whatever we could.
The rental property that we had at Sacramento had their rents down, due to which we suffered from $300-400 loss per month. The condo was the highest debt so far and were also paying a 5.6% interest rate on the car. Although the graduate school debt carried low interest rates, we knew this was perhaps the lowest priority debt.
(Related – Steps to make debt snowball a motivation)
Getting help of a financial advisor – The last resort
While I thought of staring off with my own firm to start off with a steady source of passive income, my financial advisor said that I shouldn't take the step till I had accumulated $100,000 in savings.
I started tracking the revenue that I brought in, researched the cost-effective overhead options and also learned how to fend for myself. After about 6 months, I was bringing in enough funds to rather quit my job and now I'm fortunately busy with expanding my firm by hiring more employees.
The lessons learnt
As soon as we closed escrow on the condo, we had eradicated almost 80% of the debt from the huge amount of $756,000. Although we still have graduate and law school debt, which fortunately carries low interest rates, we're still not so worried about it.
So, although we're still not there, it almost feels like we've won half the battle with debt. I personally learned that when one is in trouble he should seek professional help instead of taking some slam dunk decisions that boomerangs you in the long run.
(Related – Do it yourself debt consolidation guide)
Paying off debt and saving money isn't too tough a job if you can maintain a financially disciplined life and also have pre-fixed goals for the near future. Admit your mistakes, take rock solid steps to rectify them, learn from them and resolve never to repeat them again. Keep aside money for your retired life so as to avoid debts marring your golden years.
About the Author – Savion Sage is a financial writer and a blogger. He has profound knowledge on the different financial issues that are plaguing the current economy and he also offers solutions to the readers through his articles. He contributes his valuable posts to different financial communites, blogs and websites.
Some topics covered by him are the US debt and the impact on the economic growth, ways in which debtors should rein in their finances, the pros and cons of consolidating debt and many more. To know more on debt and get connected with some professionals, you may visit http://www.facebook.com/debtconsolidationcare