I read an article on Mahatma Gandhi last week and compelled to write this non-financial piece. Gandhi must be a known figure to you, they way you know Nelson Mandela or  Dr. martin Luther King, Jr.
For me, born and brought up in India, I felt Gandhi every day in our school, in prayers, in lessons and in pictures on the classroom wall. I started learning Gandhi the moment I developed reading ability. The practice is still followed in Indian schools. He's the father of the nation.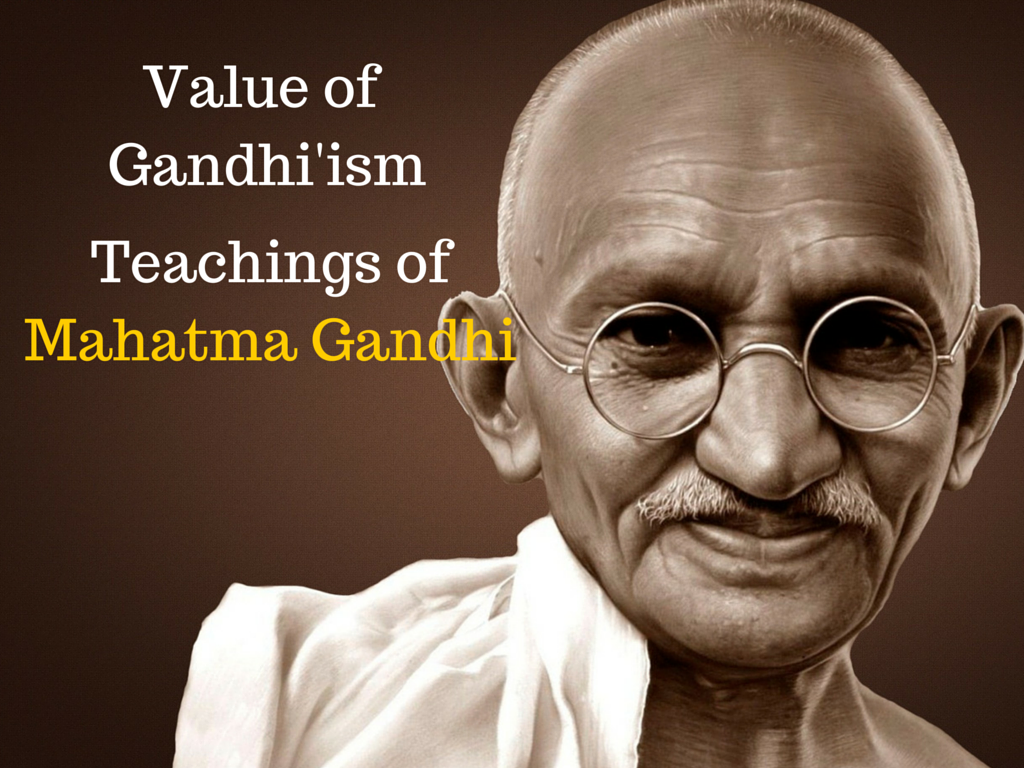 This article is to reiterate the value of Gandhism. He was assassinated by religious extremists in 1948. Things didn't change since then. We see religious extremism even today, perhaps with greater intensity. We miss Gandhi and his peace struggle. To stop Hindu-Muslim riot during the partition of India (formation of Pakistan) he started a hunger strike, and such was the power, millions stopped killing each other. Gandhi, we miss you today.
History witnessed many great leaders, but it never witnessed another leader before him who ruled half a billion hearts without a weapon. He ruled with his vision, his love, and values. He proved himself superior human being, people took him as a natural leader, a man who could lead, guide and teach.
No wonder that Dr. King and Nelson Mandela, both publicly stated their gratitude towards Gandhi. There has been no leader like Gandhi and perhaps will not be ever. He is the person who could get god's stature in thousand years from now, in line with Jesus Christ and Buddha. Albert Einstein once said about him that history would wonder one day that such a man with blood and flesh, ever walked on this earth.
So, why should you listen to Gandhi? For me, I am pretty inspired reading about his life, after many years since leaving the school. Why should you care about Gandhi?
Because, you need to feel inspired in your life. If you are going through any trouble, you may find solace reading this post. Read it for relaxation and reinforce the values for which you exist, in the way. This blog is a vent to express my opinions to the public. I just thought increasing Gandhi awareness, the little I could do now for the great man.
I sincerely hope you feel motivated and find little meaning in your life. Take a pause in your relentless pursuit of earning a living, and live! Relax and let me take you through the serene world of Gandhism. Just for a change from regular financial jargon.
Do not hate another human being  – He hated the crime, not the criminal. He often stated (Humanity is like an ocean; if a few drops of the ocean are dirty, the ocean does not become dirty) human beings are prone to mistakes. Holding people to unreasonable standards will only create conflicts in the world and negativity within you.
He didn't solicit killing, not even animal slaughter. He was prepared to die for hundred causes, but he wasn't ready to kill anyone. He defined a new form of battle, bloodless battle. He showed us how to use truth as a weapon.
In history, all shifts in power were brought about after a bloody battle, murders and mass killing. Only Gandhi showed us power can be taken away peacefully without violence.
Establish values in your life – The only difference between a great man and you is that the great men have values, you and I don't usually have those. Can you tell yourself an elevator pitch about your values? I am sure you can't, neither could I. What are the reasons we choose one over the other? What are the reasons you live for? Aren't you wasting your life?
If you think about your actions, they'll be insignificant to the world order, no it won't. But, Gandhi warned us to do our duty sincerely irrespective of what change it brings in. When you have created values even doing daily chores would seem meaningful to you. Life could become more fulfilling and lively. Because, when you lose the meaning of your existence, you die in your soul.
Shopping trips to grocery stores seem meaningful when you think about your contribution to the store employees' living expenses and the joy you could bring home with the things you buy. Going to work every day could become more meaningful to you when you start thinking towards contributions your employer is making to the society.
"Wealth without work
Pleasure without conscience
Science without humanity
Knowledge without character
Politics without principle
Commerce without morality
Worship without sacrifice."  – 7 sins, Gandhi
Do you have any such not-to-do list? Let's create one.
Growth is the only option you have – Doesn't matter what it should be, if it's good, it has to grow, humanity has to grow, love and harmony have to grow. To grow, we need to grow within our own mind and society. No country can grow by causing trouble to another country. If we can keep this in mind when we play little office politics, we can make our workplace a better livable place.
If as a manager you stop exploiting your subordinates, start caring about them and their families you can make your workplace desirable. When you let others grow, you can grow, even in your corporate ladder. growth is the law of life, it can go either towards good or bad. It's your responsibility to turn it towards good.
Care what you think – You are a product of your thoughts. You believe in things you think about. You become a person who was there in your thoughts much before you became. You can be as much powerful as you thought yourself to be, you can be as weak as well.
I am not a word weaver like Gandhi, I need to borrow his mind-equation, probably no other lines could summarize this equation of life better.
"Your beliefs become your thoughts, 
Your thoughts become your words, 
Your words become your actions, 
Your actions become your habits, 
Your habits become your values, 
Your values become your destiny" – Mahatma Gandhi
We had two great leaders in last century leading at the same time, probably the best leaders in human history ever. One chose to adopt the evil ways, the other believed in love. One tried to become greatest by using power and force. The other stayed common man and believed he can achieve his goals with determination, courage and leading by example. Both had charisma and leadership skills, they mobilized millions of people with their words and actions.
Only one is remembered, loved and acknowledged by billions, the other is the most hated. They were, even though great leaders, very distinct in their thoughts and beliefs. Their thoughts led to the actions and the actions brought far-extending consequences for humankind. They both will remain in history as two emblems – one for peace, another for violence.
Gandhi wrote to Hitler – "We have found in non-violence a force which, if organized, can without doubt match itself against a combination of all the most violent forces in the world"
The world needs another Gandhi to be born, no matter in which country that may be, or which religion he'd follow, Not even the skin color or sex matters. We need someone, off the same caliber who can show us the way ahead, upon whom we can rely for all the wisdom.
God is great, he has all the answers, but he should send someone among us time-to-time, to spread the message along. To reinforce and reemphasized that human beings are most powerful for a reason, to bring happiness and harmony for every living creature, to change the course of the history, to reiterate that world can produce to everybody's need, but, it can't produce to everybody's greed.
Readers, are you inspired? We can't produce a Gandhi within ourselves, but if we could become one millionth of a Gandhi, we just need a million people to shape our future.