One of the most important factors in regards to the financial health of a nation is its currency's inflation. While most people do know inflation is what happens when goods and services rise in price, their knowledge of the complex and evolving issue usually ends there. To help expand your understanding of inflation, below are a few things you may have not known about it.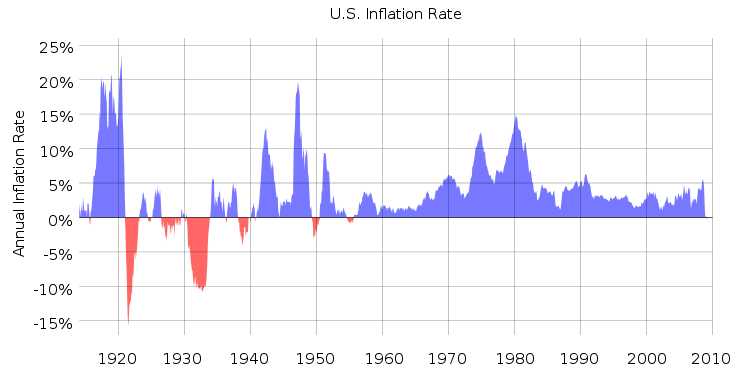 As shown in the above picture, US inflation is now historically low. We do not feel the pressure of rising prices, at least not as much as people from other countries face. But we need to be careful and should take steps that can protect our money and wealth during those high inflation days.
5 Things to know about inflation
1. How Inflation Is Measured by Analysts
To gain an understanding of inflation and how it can affect an economy, you need to be able to interpret the tools used to measure inflation. Two of the biggest of these are the Consumer Price Index, or CPI for short, and the Producer Price Index, PPI for short.
The CPI tracks changes in the price of consumer goods. To do this, something known as a "market basket" is used. According to the Bureau of Labor Statistics, this includes things like breakfast cereal, coffee, men's sweaters, car insurance, tuition and cigarettes. This is then tracked in a geographic area to determine changes in the "cost of living." PPI, on the other hand, tracks the prices that manufacturers in an area receive for their goods.
2. The Fed and Inflation Targeting
You may also know that one of the most important governmental players in regards to inflation in the United States is the Federal Reserve. However, what do they actually do? The Federal Reserve can be thought of as the central hub of banking in the US with elements that are both privately and publicly owned.
In regards to inflation, the Fed, as it is often called, monitors different price indexes that measure inflation. The Fed considers two percent inflation to be healthy and has been aiming at keeping inflation rates at that level since the early nineties. In 2012, chairman Ben Bernanke explicitly announced a 2% target inflation rate, bringing the Fed on the same wavelength as other central banks.
A quick look at the CPI Inflation Calculator tells us that from 1990 to 2015, the average inflation rate was 2.39%. However, from 1965 to 1990, the average rate was more than double at 5.86%. Many Americans today are accusing the Fed of "engineering inflation" to keep social payments on the lower end.
They believe that the "real inflation rate" should be much higher than the one reported by the Bureau of Labor Statistics.
3. The Different Indexes Used by the Fed to Measure Inflation
Unlike other central banks, the Fed does not primarily focus on the CPI and PPI when tracking inflation. Instead, it uses an index known as the Personal Consumption Expenditure index or PCE for short. This index is calculated and maintained by the Department of Commerce.
It differs from the CPI and PPI in regards to the inputs that are used as well as the statistical mathematics used to calculate trends. For example, the PCE includes employer spending on employee healthcare. The CPI does not. The Fed believes that the PCE is a more reliable measure of the current pulse of the economy.
4. The Actual Causes of Inflation
However, having the ability to understand the measurements used to track inflation doesn't provide the answer to one key question. What causes it? In the simplest terms, inflation occurs when the majority of providers of goods and services in an economy decide to charge more. But why do they do this? As you would expect, the answer isn't simple.
However, there is consensus on things that can lead to inflation. Demand pull inflation occurs when the economy is near full employment and demand continues to rise. Cost push inflation occurs when the cost of doing business for firms that provide goods and services rises.
This increase in cost could be due to many things including a rise in the cost of raw materials like oil, high tax rates, rising import prices, an unproductive workforce and higher wages.
5. How Investors Can Protect Themselves from Inflation
This is important for you. Inflation can have some very serious ramifications for all facets of an economy. One thing it can certainly affect is investments. To avoid most of the risk of inflation's impact on investments, investors can maintain a balanced portfolio that includes some investments that are not bound to the US Dollar. Such investments include gold, silver and other precious metals.
Treasury Inflation-Protected Securities (TIPS) are also a good option for people worried about the effect of inflation on their portfolios.
TIPS are a more recent form of government bond that was introduced in 1997. Inflation will have no impact on the interest rates paid or the amount given out on the bond's maturity date. However, such investments only do a good job of protecting wealth as opposed to creating significant profits.
Readers, my aim was to put enough data and facts so that you can protect yourself from future inflation, as much as possible. Now we see historical low inflation but, tomorrow we may see a high single digit, or even a double digit inflation.